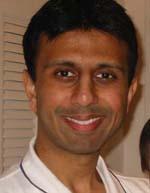 "I am losing my voice," he yelled over the phone amidst the celebratory screams of joy and the sound of champagne corks popping to the chorus of "Bobby, Bobby, Bobby" by a crowd of more than 1,000 supporters who had packed the ballroom of the Astro Crowne Plaza Hotel on Bourbon Street in the French Quarter of New Orleans.
Conservative Republican Piyush "Bobby" Jindal, who had created history by becoming the first Indian American ever to win a primary declared, "I am honoured and humbled to have this support" for his bid to capture the Louisiana governorship.
In an exclusive interview with India Abroad National Affairs Editor Aziz Haniffa even as the final tally of votes was streaming in, Jindal, 32, said, "I am just so excited that the voters of Louisiana not only put me in the run-off, but put me in first place."
"I am so proud of the voters of Louisiana," he continued. "You know, all the experts said we couldn't get in the run-off and they were wrong. I said all along it's up to the voters--they were the ones who were going to decide this election--and they've spoken loud and clear today."
"They've said, we want the best-qualified candidate. The voters of Louisiana have decided that they just did not want to go down the same old road we have gone down in the past with the same old career politicians, but wanted a change, wanted a problem solver who can get the job done. It clearly proves that my message got across to voters all across Louisiana that tonight they are ready to turn the corner for a brighter future for themselves and their children. I am so very proud of the Louisiana voters."
Few pundits had given Jindal much chance when he resigned his job in the Bush Administration as Assistant Secretary of State for Health and Human Services -- the highest ranking post held by an Indian American ever -- in February and returned to Louisiana to run for governor.
Although he had a virtually unbelievable resume -- Rhodes scholar, health administrator of Louisiana, executive director of medicare reform in Washington DC, president of the Louisiana University system -- and all before he had even turned 30, his youth and ethnicity were expected to work against him, particularly since he was running against some of the most experienced and hard-core politicians.
But his evidently appealed to the voters, especially the conservatives with his radio and television ads lavishing praise on his former boss, President George W Bush, and extolling the Ten Commandments -- as a teenager he had converted to Christianity from Hinduism -- and his strong pro-life and anti-abortion stand, coupled with his pledge to resurrect the state's anemic economy, reform health care and improve the level of education.
It also helped that he had the support of the state's most prominent and popular incumbent governor Mike Foster, who looked upon Jindal as his protege and not only endorsed him but was by his side from the day he decided to run and was a catalyst in Jindal's fund-raising campaign too, helping to beef up his coffers that was in excess of $1.5 million. Foster, who has served two terms, could not succeed himself.
But a few weeks before the primary, Jindal emerged as the front-runner in all of the opinion polls and on Thursday, the state's most well known political analyst commented that "the pundits' early read was that Bobby Jindal had no chance of being elected governor on account of he isn't white. Those same pundits will now be astonished if Jindal doesn't secure a runoff spot in tomorrow's primary."
"Perhaps a dusky complexion will prove a drawback in the runoff, but the poll numbers suggest that, so far, Jindal's brain has made a bigger impression than this ethnicity," Gill said.
In the interview with rediff.com, Jindal said his parents, who are devout Hindus and pillars of the Hindu community in Baton Rouge, being the protagonists behind the building of the temple there, his wife Supriya, daughter Selia Elizabeth and his in-laws were also in New Orleans along with scores of friends and supporters for the celebratory victory party.
Jindal also disclosed to rediff.com, "Not only is my entire family here with me, I also want to tell you that my wife's pregnant with our second child, and what a great gift from God to just hear about it in addition to our victory today. We couldn't be happier."
He said, "We were not expecting 50 percent", which means he has to run-off with Blanco and he could have his work cut out in the general election on November 15 since Blanco and Ieyoub jointly polled more than him.
"We knew all along he have to go in the run-off. We are thrilled however, not only to be in first place but to be in first place by so much. By such a large margin."
"It was great that we got into the lead from the very start and maintained our lead and just kept going and going," he said.
Jindal also was profuse in his thanks to the Indian American community from across the country -- estimated to have contributed nearly a third to his campaign coffers -- saying, "I am so proud to have their support and they've been so wonderful and so supportive. You know how supportive they've been. You've been there, the events they've organized, you've seen it. They've been just great. I can't thank them enough."