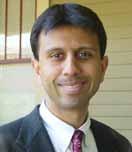 The election to the state of Louisiana on Saturday holds special interest for Indians, as Republican frontrunner Bobby Jindal could become the first Indian-American governor of a US state.
The candidature of Bobby, born as Piyush Jindal, is striking in that he enjoys the support of outgoing Republican governor Mike Foster and, at 32 years, he has already served as a senior official in the Bush Administration.
The Rhodes scholar, whose family migrated from Punjab before he was born, is credited with having turned the state's medicare deficit into a surplus while he ran the system as secretary of the Department of Health and Hospitals.
There are 18 candidates in the fray for the primary. To win the polls outright, Jindal must secure more than 50 per cent of the votes polled. If no one reaches that figure, a runoff will be held on November 15.
Current opinion polls show Jindal, a teenaged convert to Catholicism from Hinduism, tied with or slightly ahead of Democrat Lieutenant Governor Kathleen Blanco. Both are expected to get 18 to 22 per cent of the votes each.
| | |
| --- | --- |
| | Also Read |
| | |
Jindal's ability to overcome the disadvantage of race is attributed to his frankly extremist Republican agenda and his promise to introduce education reforms and abolish several state business taxes, which he says have made the southern state unattractive to industry, his campaign secretary Trey Williams said.
"The only reason our children are leaving for Texas and Atlanta and other states is, we haven't had the right leadership, the right policies to develop those economic opportunities right here at home," Jindal reportedly said in his election speeches. Like all other candidates, he does not support abortion.
Jindal was born and raised in Baton Rouge. His father, an engineer with a rural background, came to Louisiana to attend graduate school. His mother is a manager in the state's Department of Labour.
Political analysts believe Jindal's ethnic background has not played a significant role in the campaign, except perhaps to increase his appeal.
"It makes him different, exotic. I don't know if a 32-year-old white boy could do what he's doing," said columnist John Maginnins. Louisiana voters tend to be more tolerant of ethnic diversity than in other southern states, he observed.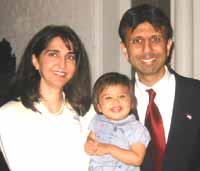 Jindal and his wife Supriya, also of Indian descent, Catholic and Louisiana-born, have a covenant marriage, a Louisiana innovation that mandates premarital counselling and sets stricter terms for divorce. Louisiana's small Indian-American population has supported his campaign as has the wider Indian-American community.
Jindal has raised about $2million, said Williams, significantly more than any other candidate. Maginnins adds, "Forty per cent of his donations came from out of state, and many of those were from Indians."
EXTERNAL LINK
More on Bobby Jindal