Andhra Pradesh Chief Minister Chandrababu Naidu, Minister for I-T and Employment Generation Gopalkrishna Reddy and two Telugu Desam Party legislators -- Krishnamurthy and P Rajasekhar Reddy --  received minor injuries when a mine blast hit the chief minister's convoy at Alipiri Road, at the foothills of Tirumala, on Wednesday afternoon.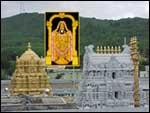 Naidu was on his way to Tirupati, where Brahmotsavam celebrations are on at the Lord Venkateswara temple.
The chief minister, who is on the hit list of Naxalites, was discharged from the Sri Venkateswara Institute of Medical Sciences after treatment.
"He received minor injuries to his chest, nose and right hand. He is completely safe and is enquiring about the incident," an official source said.
In New Delhi, Union Minister for State for Home I D Swami said the People's War was suspected to be behind the explosion.
Though there is no official word about who is behind the blast, the nature of the attack pointed the needle of suspicion
towards the People's War.
The blast was apparently remote controlled and under its impact one car was thrown off the road.

"It was a claymore mine blast," Director General of Police S R Sukumara said.

The entire area has been cordoned off and all vehicular traffic on the Ghat road has been stopped.

Naidu was scheduled to make the customary offerings at Tirumala at 5 pm on ro mark the 'Brahmotsavam'
festivities.
The blast has raised doubts over the efficacy of security in the temple town.

Quoting eyewitnesses, a senior police officer said there were 'twin blasts' as the convoy crossed the entry gate at the
Tirumala foothills.

As the news spread, senior ministers in the Naidu cabinet held an emergency meeting in capital Hyderabad.

"There is nothing to worry. The chief minister is safe and has only minor injuries," Major Industries Minister K
Vidyadhar Rao said after the meeting.
With inputs from PTI