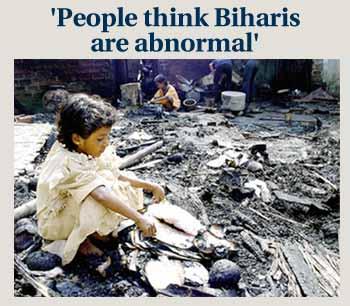 Prakash Jha, director of films like Damul, Mrityudand and Gangajaal, is very upset by last week's attacks on Biharis in Assam and Maharashtra.
Jha, who hails from Champaran district in Bihar, says there is no electricity in his village to this day. It is time the people of Bihar do some self-introspection and people from other states help build Bihar and the nation, he told Senior Assistant Editor and Chief Correspondent Syed Firdaus Ashraf.

When you heard of Biharis being attacked in Assam (see main image) and at Kalyan station near Mumbai, what did you feel?
As an Indian I felt sad about these events. This is not what should be happening in our country. When you go to the roots you find sectarian politics at work. The shortsighted goal is to get power in the long term. Whether it is Maharashtra or Assam the objective is the same. Twenty-five years ago (Editor's note: in the late 1960s) there was an agitation against South Indians in Mumbai; now it is against Biharis. When you talk about patriotism, you should be a national patriot, not a sub-national patriot.
You told me in an earlier interview that many historical movements were launched in Bihar, like Mahatma Gandhi's movement for indigo farmers. Do you think people outside Bihar don't know about Bihar's contribution to the freedom movement, its glorious past?
The past of Bihar does not make Bihar great. I cannot bask on past laurels. There are a lot of answers the people of Bihar have to give. We have to create new industries and new opportunities. We have failed to do that. We have killed our institutions. We have driven people out of Bihar. Today, no production of any kind is happening in Bihar. People are forced to go out of Bihar. There are no good medical or engineering colleges. One has to look at these facts before talking about our glorious past.
Do you think the Indian Union is undermined by sectarianism of the kind we currently see in Assam and Maharashtra?
The Constitution gives the right to free movement to an individual within the country. If you take Mumbai, it is doing well because to a large extent migrants have developed this city and given it a cosmopolitan culture. Now I cannot say they have more rights than others in this city. It will be wrong on my part to do so.
Do you think the rest of India has forgotten Bihar?
How can I say the rest of India has ignored it? Bihar has to look for itself. The answer lies with the local people. Maharashtrians or Assamese will not go and build Bihar. But what is the fault of those innocent examinees who come here (Bihari youth who wanted to appear for the Railway Recruitment Board Examination were thrashed by Shiv Sainiks at Kalyan station near Mumbai on Friday, November 21) or those labourers who come in search of employment (as in Assam). It is the bad situation (in Bihar) that is driving them over here.
Why are we blaming these poor people? Bihar also needs to be blamed but you don't take revenge like this because it will escalate in violence. We should come together as a nation and go to the roots to solve the problem.
You once told me that Bihar's society is very vibrant but lacks direction. Can you explain what you meant?
When I say vibrant it means there are vibrant thoughts among the people but they are not doing enough to produce results. No growth can take place until there is production happening or generation of wealth
(Rashtriya Janata Dal leader and former Bihar chief minister) Laloo Yadav often says Bihar is discriminated against by the central government. For the last ten years, he says, it has not got its due because he has always stood against the Centre.
I cannot be so blatant as I am not a politician. However, I would say I face that every day when I meet various people. Many people have this perception that Biharis are abnormal people. I feel sad about that. But the fact of the matter is that the state of affairs in Bihar is not good. Instead of blaming everybody I would like to go for some introspection too.
Has this perception existed since you came to Mumbai?
I don't know about that time. I am only talking about today's times. Biharis feel apologetic about being a Bihari. When I talk to people, they say you don't look like a Bihari and you don't talk like a Bihari. They are surprised with my behaviour. Please understand that Bihar has to build institutions to do well for itself. Today, the day any Bihari gets an opportunity to go out of Bihar, they move out. This is true for labourers as well as for educated people.
When you go home to Champaran, what changes do you find there?
There has been no progress. There is still no electricity in my village. We still light kerosene lamps every day. Labourers want to go to Punjab, Kolkata or Assam now. They are looking for opportunities to move out.
How far is Laloo Yadav responsible for bringing Bihar to this situation?
I don't know who is responsible. I feel the only way to improve the situation is to stop being sectarian and casteist. We have to get together to build up industries and come together in nation building.
Main Photograph: STR/AFP/Getty Images. Image: Dominic Xavier