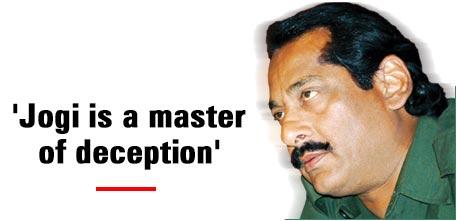 The Bharatiya Janata Party leadership is stoutly defending Dilip Singh Judeo, the minister of state who resigned on Monday for alleged graft. In this interview to rediff.com, Judeo -- scion of the princely family of Jashpur in Chhattisgarh -- tells Chief Correspondent Tara Shankar Sahay in a telephone interview from Jashpur he will fight the forces that sought to frame him.
What do you have to say about the VCD which allegedly shows you accepting money supposedly for doing somebody a favour?
I will desist from saying anything because our prime minister has already ordered a CBI probe. It (the VCD) was doctored. The Congress feels threatened by our party. The practice of framing political opponents is all too common. I needn't say more. Jaanch ke baad doodh ka doodh, paani ka paani ho jayega (the probe will bring out the truth).
The Congress is demanding that you be prosecuted.
It's a case of the pot calling the kettle black. (Chhattisgarh) Chief Minister Ajit Jogi stands to benefit from all this tamasha, isn't it? You don't have to scratch the surface to know who has orchestrated all this. They are masters in this game. I am unconcerned. I will canvass for my party and give a befitting reply to all those who have tried to pull me down.
What about Prime Minister Vajpayee's demand that Chief Minister Jogi also quit?
Of course, the Congress always wants the best of both worlds. He has been charged by the CBI for forging documents and convert a blatant lie into truth. The Congress wants one standard for itself and another for others. The prime minister did not hesitate to order an CBI probe into this affair. It is only natural that he insisted the same yardstick should apply to everybody, without exception. As for Jogi, he is a master in the art of deception. If the Congress leadership values him, it shows their worth too.
You made a reference to fighting international forces at your press conference in Raipur on Sunday. What did you mean?
Why do Christian missionaries choose tribal areas for conversion? Why do they concentrate in these areas? Because the illiterate and innocent tribals are hoodwinked into believing that by converting they will reach heaven. Have you ever found out what the plight of those converted people are? After a few initial enticements like food and clothing, the new converts are ignored because the missionaries proceed towards a new batch of tribals.
The missionaries are flush with international funds which means international support. I have succeeded in reconverting such Christians back into the Hindu fold. I am proud of it. It is in that context that I said I was combating international forces.
Do you intend to continue with your re-conversion effort, the Ghar Wapasi programme?
Of course. It might interest you that many of those whom I re-converted said they had never become Christians and were simply availing of the stuff being given to them by the Christian missionaries like food and clothing.
It means they were never keen to convert.
But Christianity is thriving in tribal areas in Gujarat. Jharkhand, Chhattisgarh and Orissa.
The missionaries came to this country 150 years ago and their successors continued conversions. They have been operating for a long time.
What is your objection to people changing their faith?
Why should our people, Indian tribals and villagers, have to forget their Hindu religion and culture, their Indianness?
It is said conversions and re-conversions have not made much difference among the tribals who live in penury anyway and have their own tribal deities.
We have noticed that Christian missionaries in Chhattisgarh are operating on a war footing with the help of the chief minister who is a Catholic himself.
We do not like forced conversions which is what they are despite the denial by the missionaries.
Are you happy that you have been declared a star campaigner for the polls in Chhattisgarh in spite of the controversy?
I am a dedicated partyman and am doing my bit. I think the Congress is on an extremely weak wicket which is why Jogi is indulging in one fraud after another in a bid to emerge victorious. There are reports about his enticing legislators from rival parties. He is buying votes.
How far will this controversy affect your party's electoral prospects in Chhattisgarh?
It will have no effect at all. On the contrary, it will highlight to what extent my rivals stoop to attain their objectives.
Will you become the chief minister if your party wins?
My party will decide.
Photograph: STR/AFP/Getty Images. Image: Uday Kuckian