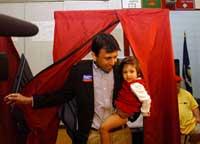 Piyush 'Bobby' Jindal (32) is proud to have run a positive campaign despite coming up against some 'negative tactics' from his Democrat rival Kathleen Blanco.
Jindal told rediff.com that the "campaign has gone very well" and he was "feeling very good, very confident." He believes his campaign in which he focused on the issues at hand was already a winner and predicted, "I think it will be even more tonight after the election results come in."
We wanted to run a campaign that we could be proud of. We wanted to run a campaign that Louisiana could be proud of. We said all along we would focus on the issues.
| | |
| --- | --- |
| | Also Read |
| | |
"We are running to change not only the way we campaign but the way we run Louisiana. I am proud of the campaign I ran."
On Saturday morning, Jindal arrived at the Kenilworth Middle School in Baton Rouge accompanied by his 21-month-old daughter Selia Elizabeth and wife Supriya to cast his vote.
Though Selia wanted him to jump the line, she was a big hit with the other voters and mediapersons.
Immediately after emerging from the polling booth after voting, Jindal said, "Today is an exciting day for the Jindal family. Possibly for the entire state of Louisiana. My daughter helped me vote for Bobby today. Let's hope enough people did that across the state."