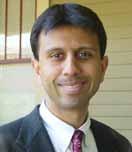 Polls have indicated that the two Louisiana gubernatorial candidates, including Indian American Republican candidate Bobby Jindal, are in a neck-and-neck battle for the November 15 election but Democrat Kathleen Blanco was fast losing ground to Jindal.
Jindal and Blanco are in a tight race, Times-Picayune, a New Orleans newspaper, reported quoting surveys.
Jindal leads with 44 per cent to Blanco's 40 per cent among likely voters polled by the Survey Research Centre at the University of New Orleans, but those numbers represent a statistical tie considering the possible margin of error in the poll.
Blanco leads with 39 per cent to Jindal's 38 per cent among registered voters in a poll by Loyola University political scientist Ed Renwick for WWL-TV.

That measure includes how voters are 'leaning' in the race in the New Orleans area. Jindal leads with 41 per cent to Blanco's 32 per cent.
"It's going to be a battle, right down to election night and I think Jindal's vote is more likely to turn out," Renwick said.
"This race is going to be a close race, like we've always said," Jindal's spokesman Trey Williams said. "In the last days of this race the undecided is going to come our way, because we are ready for a change in Louisiana."
The UNO poll surveyed 731 registered voters from October 25 to November 1 and has a margin of error of plus or minus 3.7 points. It showed Jindal with 44 per cent and Blanco with 42 per cent and 15 per cent undecided. The Renwick poll surveyed 800 registered voters from October 29 to November 3 and has an error of margin of 4.1 per cent.
In the New Orleans area, Jindal leads with 41 per cent to Blanco's 32 per cent. But for a Republican Jindal polled better that normal among black voters, with 17 per cent.