There were 19 journalists among the 34 passengers on the Delhi-Lahore bus that was flagged off on Friday morning by Union Surface Transport Minister Bhuvanchandra Khanduri at 0600 IST from the Dr Ambedkar Terminal at Delhi Gate.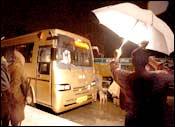 About  200 mediapersons turned up to mark the resumption of the Indo-Pak bus service despite heavy rain.
The bus is expected to cover the approximately 586km journey in 12 hours and scheduled to reach Lahore some time around six the evening. It will have three stops en route, at Pipli, Sirhind and Kartarpur.
Most of the journalists are expected to return next Tuesday July 15.
On the other side, the Pakistan Tourism Development Corporation bus, carrying 28 passengers, entered India through the Joint Check Post on the Indo-Pak Border in Wagah on Friday morning from Lahore.
After crossing the Zero Line, the passengers dealt with customs and immigration formalities.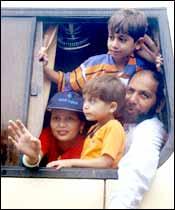 The trip to Delhi will take 11 hours from Wagah.Earlier, the passengers were given a warm send-off in Lahore by Pakistan's Tourism Minister Raess Munir Ahmad.
The bus has a total of 31 people on board, including three crew members and six mediapersons.
Security personnel will accompany the buses on the Delhi-Wagah section of the route.
With inputs from PTI