"Ladies and gentlemen, we got him."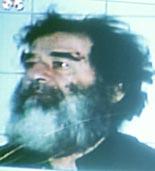 With these words the US administrator of Iraq Paul Bremer on Sunday afternoon announced the capture of former Iraq president Saddam Hussein and two others in a raid 15km south of his ancestral hometown Tikrit.
Hussein, 66, was tracked down to two possible locations at Adawar village, codenamed Wolverine 1 and Wolverine 2, and was found hiding in a cellar, he said.
"This is a great day in Iraq's history. For decades hundreds of thousands have suffered at his hands... for decades he threatened and attacked your neighbours. That is all over. Now it is time to look towards the future," Bremer said at a press conference in Baghdad a few minutes past 1200 GMT (1730 IST).
Bremer asked remnants of the regime to lay down arms and help reconstruct Iraq.
| | |
| --- | --- |
| | Also Read |
| | |
Giving more details, Lieutenant General Ricardo Sanchez, the commander of US ground forces in Iraq, said, "At about 8pm, forces from the 4th infantry division... and special operations forces conducted Operation Red Dawn to capture Saddam Hussein..."
"There were no injuries. In fact not a single shot was fired. He is being talkative and cooperative," he said.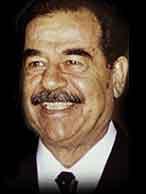 Hussein was hiding in a "spider hole", about two to two-and-a-half meters deep with a ventilation pipe to enable him to breathe, he said, adding the hole was camouflaged with bricks and dirt.
The general said the raid, during which two Kalashnikovs and $750,000 were also recovered, was a result of intelligence gathered over several months.
Gen Sanchez also showed a video of the "hole" where Hussein was hiding.
Next followed a clip showing a US officer giving medical attention to Hussein. The ex-president, who had dishevelled hair and a long beard, was looking tired.
The examination showed that "Hussein has no injuries and is in good health", the general said.
Asked how Hussein looked at the time of his capture, the general said that he "looked a tired man, a man resigned to his fate".
"He is currently under coalition custody... at an undisclosed location," he added.
In Madrid, the president of the Iraqi Governing Council said at a news conference DNA tests had confirmed that the suspect arrested in Tikrit was Hussein.
Spanish Foreign Minister Ana Palacio, who appeared at the news conference alongside Hakim, said: "It is a great day for humankind. The horrible shadow of this bloody dictator is going to vanish."
Meanwhile, a spokesperson for Jalal Talabani's Patriotic Union of Kurdistan said it was Kurdish intelligence and Kurdish forces who tracked down the ex-dictator.
Although US-led forces carried out the fighting, the Kurds have provided some of the best intelligence before, during and after the war.
It was a PUK news agency that announced late on Sunday night that Hussein had been captured, but the formal announcement was delayed till morning.
US authorities had offered a $25m reward for information leading to his capture. The Iraqi leader was number one on the coalition's 55 most wanted list.
Two months ago US forces said their intelligence indicated Hussein was hiding near Tikrit, but he was moving around safe houses in disguise and was being assisted by a tight network of family and clan ties.
Once Hussein has been debriefed the other issue will be how and where he should be tried. A spokesperson for the Iraqi Governing Council said he expected a special court would be set up to try him.
In London, one of Hussein's most celebrated torture victims, nuclear scientist Dr Hussein Shahristani, said, "I hope he will be given the type of fair and just trial that I was denied."
Shahristani was held for a decade in the notorious Abu Ghraib prison near Baghdad, where he was repeatedly tortured after he refused to help Hussein develop nuclear weapons.
With inputs from Shyam Bhatia