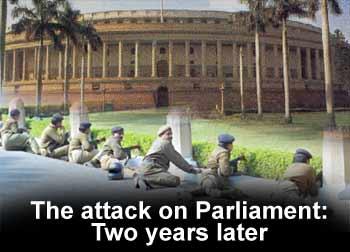 December 13, 2001
The attack on India's Parliament stunned a nation that watched what was happening live on television.
The final toll in the attack, which Prime Minister Atal Bihari Vajpayee compared to the 9/11 attack on the US: six Delhi police personnel, a gardener and all five terrorists. 
Within days, India declared it had evidence linking the Pakistan based Lashkar-e-Tayiba to the attack. Ashraf Jehangir Qazi, who was then Pakistan's high commissioner to India, was summoned by India's then foreign secretary Chokila Iyer who set out a three-point demarche: one, a ban on the Lashkar-e-Tayiba and the Jaish-e-Mohammed; two, their leadership, 'which is known to Pakistan', should be taken into custody; three, to curb the financial assets of these groups and their access to these assets.
Pakistan declined, saying it had to have proof. India replied it could not hand over the proof, which was based on 'technical intelligence' and would compromise its sources. Such proof was, however, given to the Americans, who in turn branded both the Jaish-e-Mohammed and the Lashkar-e-Tayiba as terrorist outfits. At the same time, Washington clarified this did not necessarily indicate the involvement of the Pakistan government.
Thus began a slide towards a possible war that made the rest of the world declare Kashmir as the world's most dangerous flashpoint. Leader after Western leader arrived in Delhi and Islamabad, pleading for calm and rationality.
India remained adamant, and the troops it deployed on the border by the year-end continued to pile up. Both sides also rattled their nuclear sabres, daring each other to attack. Pakistan warned that, given the tension on its other border, it would be unable to lend its soldiers to assist the US in its campaign against terror in Afghanistan. Despite the constant pressure for talks, India insisted a dialogue was impossible until Pakistan complied with the conditions laid down by New Delhi.
'Non-negotiable'
That was how Home Minister L K Advani described the terms set by India for talks with Pakistan in March 2002. 
'We are ready to talk with Islamabad if they fulfil these five demands. We are ready to discuss even the Jammu and Kashmir issue, if they meet these demands,' he told party workers while launching the Bharatiya Janata Party's campaign for the Delhi civic polls on March 9, 2002.
The terms were:
The dismantling of all terrorist training camps across the border, including those in Pakistan-occupied Kashmir.
No arming and abetting of terrorists.
Halting all financial assistance to terrorist and jihadi outfits.
The cessation of cross-border terrorism.
The extradition of 20 terrorists wanted for terrorist acts in India. 
A month earlier, in his customary address to the joint sitting Parliament on February 25, then President K R Narayanan too made it clear that a dialogue with Islamabad was possible only if Pakistan took 'effective steps' to end training, equipping and financing terrorists and stopped their infiltration into Jammu and Kashmir and other parts of India.
But public -- and political -- memory is a fickle thing.
December 13, 2003
Not a single Indian newspaper had a story to mark the attack. Of course, Parliament observed a moment's silence to remember those who lost their lives in the attack two years ago. But not one word was raised about Pakistan's involvement. The mood, in fact, is upbeat, with the two nations on the road to talks again courtesy Prime Minister Vajpayee's latest peace initiative.
This initiative has led, among other things, to Pakistan's proposal for a ceasefire along the entire border, which is still holding.
But have any of the conditions set by India been fulfilled?
Reports indicate the recruiting and fund raising activities of terrorist outfits that operate out of Pakistan continue unabated. 'Just recently, a new recruitment campaign for militants -- to be used in cross-border raids into Indian-administered Kashmir -- was started in all big cities,' said a report in the Asia Times issue dated November 27, 2003.  
The terrorist camps in Occupied Kashmir that India wanted destroyed are pulled down and reconstructed elsewhere with nonchalant ease.
"Operation Parakram [dealing with the general mobilisation for war in 2002] was a misjudged attempt at coercive diplomacy primarily because the would-be coercer in such situations has to be seen credibly to have the will and the wherewithal to launch a punitive strike if the conditions that were laid down were not met. Assuming the Government of India had the will, the country definitely lacked the military capability to make any kind of serious inroads into Pakistan.
"This was why, on the very day Operation Parakram was announced, I said on television that there was no need to worry as there would be no war! But this exercise cost India dearly, mainly as far as the credibility factor is concerned. Will Islamabad believe us the next time Delhi threatens action? It is more likely it will be more brazen in cocking a snook at India," says Bharat Karnad, research professor in National Security Studies, Centre for Policy Research, New Delhi, and a former member of the National Security Advisory Board.
When, in an admission that coercive diplomacy had indeed failed, National Security Adviser Brajesh Mishra finally announced on October 16 last year that India would withdraw its troops from the border, here's what China's People's Daily had to say: 'Analysts said that India's stance taken in the past year, for instance, its deployment of massive forces in the border region, seems to be only limited to putting pressure on Pakistan, compelling [Pakistan] President [General Pervez] Musharraf to take more severe measures to deal with 'cross-border terrorists'; it has no intention to unilaterally wage a full-scale war between the two countries. 
"Ten months have passed, but the deployment of massive forces has not brought Pakistan to its knees. Facts also prove that war is not the only efficient way to end terrorist attacks.
"It is not wise for India to continue to keep pressure in the border area, because, firstly, such an act can hardly yield greater results; secondly, the maintenance of a large-scale military presence has cost India Rs 20 billion in expenditure. Moreover, inciting war will get no international support. So India is supposed to find a suitable chance and reason to withdraw 'seemingly'."
"It is always refreshing to hear of peace talks between India and Pakistan, even when one knows it is difficult to sustain in any abiding sense," says Dr Ashwini Kanta Ray of Delhi's Jawaharlal Nehru University. "But I suppose diplomatic one-upmanship around peace initiatives are always preferable to the zero-sum game of war-mongering between the two poorest members of the nuclear club."
Dr Robert L Hardgrave, Temple Professor Emeritus in Humanities in the department of Government and Asian Studies at the University of Texas at Austin, concurs. "I have been encouraged by recent developments and I hope that the inclusion of Siachen in the ceasefire may bring an end to what surely must be among the most senseless military engagements anywhere in the world," he says.
"I do not know what changes might have prompted India to consider talks with Pakistan. It could be recognition of an opportunity to break through the impasse in which both countries have been trapped. There could have also been a recognition that the extradition of the 20 terrorists was a non-starter for any Pakistani government, at least under current conditions, and that talks with Pakistan and an easing of tensions more generally might themselves be conducive to the cessation of cross-border terrorism.
"The international community," he believes, "and most particularly the US, surely has a role to play here in using the full measure of its influence to end Pakistan's support to terrorist groups. Moreover -- and this may be, in part, the reason behind Pakistan's willingness to accept a ceasefire and enter into talks -- Islamabad may finally be prepared to act on the reality that the terrorist groups it has created and/or supported now threaten both state and society in Pakistan itself."
Not everybody is so optimistic.
"I am delighted India-Pakistan talks are 'in full swing'," says Dr Sumit Ganguly, Rabindranath Tagore Chair of Indian Cultures and Civilizations and Professor of Political Science, Indiana University, Bloomington.
"However, I remain deeply sceptical of their outcome. None of General Musharraf's actions to date suggest he and his cohorts understand it is in their interest to make peace with India and abandon the quixotic quest to try and wrest Kashmir. The Pakistani-military-bureaucratic elite has become a victim of their own propaganda. In many ways they remind me of the characters in Richard Brinsley Sheridan's famous play, A School of Scandal. The characters in that drama are so used to lying and dissembling that, over time, they simply cannot tell the difference.
"The last Pakistani response to India's peace proposals contained, for example, some utterly noxious and unhelpful suggestions. I refer specifically to their offer of medical facilities to the Kashmiri victims of rape and other abuses! This from a country and regime that has been involved in the systematic effort to kill, maim, plunder and terrorise innocent civilians, Hindus and Muslims alike, in Kashmir and beyond for the past several years," he says. 
"India should obviously proceed with the peace process. However, to quote a particularly unedifying former president of the United States, Ronald Reagan, 'trust but verify' when dealing with the Pakistani permanent establishment," Ganguly concludes.
ALSO SEE
Keeping Parliament safe!
The attack on Parliament: The complete coverage
Image: Rahil Shaikh