Sonal Shah, 35, founder of Indicorps, was voted India Abroad Person of the Year 2003 by a distinguished nine-member jury, headed by Iowa Congresswoman Swati Dandekar, from 186 nominations sent in by readers of India Abroad and rediff.com.

Indian Minister of State for External Affairs Digvijay Singh presented Shah with the award at the Waldorf Astoria hotel in New York in a glittering ceremony attended by US Senator Hillary Clinton, Ambassador Lalit Mansingh, Republican politician Bobby Jindal and leading members of the Indian American community.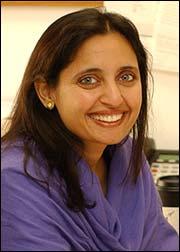 The jury for the India Abroad Person of the Year 2003 award -- Swati  Dandekar, member of the Iowa House of Representatives; Swadesh Chatterjee, former national president, Indian American Forum for  Political Education; Mallika Dutt, partner, Breakthrough; Anil Kakani, legislative assistant to Senator Hillary Clinton; Dr Madhulika S  Khandelwal, president, Asian American Center, Queens College, New York; Varun Nikore, president, Indian American Leadership Initiative; Dr  Krishna Reddy, president, Indian American Friendship Council; Kapil Sharma, vice-president, Madison Government Affairs; Tunku Varadarajan, editorial features editor, The Wall Street Journal, New York -- met in New York on November 8 and after over four hours of deliberations selected Shah as the winner.

Indicorps, founded in 2001 by Shah and her siblings, Roopal and Anand, is a non-profit organisation that helps young Indian-Americans reconnect with their heritage by providing them with an opportunity to spend time in India doing community work at grass roots level.

"Most people look to give back to the community something they had taken out of it; this candidate is giving to the community, without having got anything for herself," a member of the jury pointed out.

The jury honoured Shah for creating an organisation that had the capability of 'strengthening the Indian community and help build young leaders within it'.

"I am both honored and humbled to have been selected as the recipient of this award in a year that had such tremendous contributions from Indian Americans in politics, literature, music and health," Shah said in her acceptance speech.