'You have to be as careful giving away your money as you were in making it'
-- Bill Gates
The Clinton administration made an official policy concerning India which the Bush administration has continued even further, namely, to decouple India from Pakistan, and to reposition India as a major geopolitical player in its own right. Likewise, the US corporate world has started to re-imagine India in this new light, seeing it as a positive force on the world stage.
However, many social sciences and liberal arts scholars are still entrenched in the rhetoric of 'South Asia' that emerged during the Cold War, in which India is lumped as one of eight problematic countries whose nuisance value is to be contained. While India's accomplishments are nowadays being used to boost the image of its neighboring South Asian countries, in return, India gets associated with South Asian terrorism, violence, human rights problems and backwardness. Ironically, India's culture gets blamed, and a rejection of Indianness by Indian students is encouraged as a marker of progressiveness.
American business schools report that India has become the most important country that students wish to study, in order to understand the future world economy and technological opportunities. Yet, the humanities departments run by scholars alienated from India are escalating their exaggerated and one-sided portrayals of India as dysfunctional and as a human rights cesspool.
There are over a thousand full-time humanities scholars in the US specializing in some aspect of India. The India Studies industry consists of the development of knowledge about India, as well as its distribution and retailing. It includes India-related academic research, school and college education about India and its culture, media portrayals of India, independent think tanks' work on India, government policy making on India and corporate strategic planning on India. The impact of India Studies also includes the diffusion of ideas about India to Indians, many of whom are ignorant and/or even suffer from cultural shame.
This article explores how India Studies directly or indirectly informs American perceptions of India, its products and services, and of the Indian-American minority. Secondly, this article suggests practical strategic directions to bring balance and objectivity into India Studies.
It is important for Indian-Americans to participate in academic funding along the same lines as Chinese-Americans, Japanese-Americans, Arab-Americans and others already do. However, unlike these other communities, Indian-Americans have not yet done enough systematic research before strategising and investing in the academic system.
Meanwhile, affluent Indian-Americans' pocketbooks have been targeted by many US industries, and now university fundraisers have established aggressive goals to solicit donations from them. When I recently learned that many Indian-American corporate executives had become active in India-related causes, I was, indeed, hopeful that high management standards of due diligence and strategic planning would be applied prior to their donations. However, many donors have not addressed critical questions before funding India Studies programs.
There has been an aggressive campaign across American campuses to construct an artificial new identity for Indian students, known as 'South Asian,' by denigrating 'Indian' as being inferior and/or less politically correct. Aditi Banerjee, a law student at Yale University, is one of the courageous whistleblowers challenging the legitimacy of the category of 'South Asian' identity.
Many eminent Indian-American donors are being led down the garden path by Indian professors who, ironically, assemble a team of scholars to undermine Indian culture. Rather than an Indian perspective on itself and the world, these scholars promote a perspective on India using worldviews which are hostile to India's interests. Sophisticated terms are used which appear very scholarly, such as highlighting the plight of the 'sub-nationals,' by which they mean Indian minorities repositioned by the scholars as not being Indian and whose human rights are championed via separatist movements.
What the donors must appreciate is that the Indians on the faculties have their career loyalties to the universities and the larger funding system that sustains the academy today. Furthermore, in many cases, the ideologies of the humanities scholars run counter to the Indian-American donors' vision of India as a free-market oriented, unified and pluralistic, economic power.
India Studies Distribution Channels
Serious academic scholarship about India is rarely in the hands of scholars with loyalty to India. On the other hand, China Studies is now largely under the control of China. China's universities produce China Studies scholars for domestic academic positions and for export to the universities worldwide. Its government organizes prestigious academic conferences in China and funds journals so that academic careers do not depend on impressing Western institutions.
To use a business metaphor, what is at stake is analogous to brand management. Unlike China, India is abandoning its brand management, and, by default, leaving it in the hands of third parties, inclusive of competitors.
One Indian-American complained that my brand management metaphor was 'amusing and offensive.' But just last week, there is an article in The New York Times precisely on the importance of nations building brands and managing them professionally. Titled, 'When Nations Need a Little Marketing,' it mentions how Germany, Britain, New Zealand, among others, have been doing this.[i]
The following diagram shows the structure of the knowledge industry concerning countries like India and China, and its relationship to Western frameworks and controls. China controls the production and distribution of knowledge about it, whereas Indians are largely consumers of knowledge about India. Many Indians who are producers/distributors serve non-Indian institutions and ideologies.
An academic chair is a knowledge production center of very high leverage, and has the potential to do a lot of good or a lot of harm. Therefore, any donor should scrutinize the outputs from a given department (dissertations, research papers, books, conferences and campus events), because funding a chair would be a force multiplier for whatever ideological tilts lie entrenched there. This concentration of power is exacerbated by the fact that humanities scholars within a given discipline typically have an inner circle or cabal that closes ranks, vitiating the process of peer reviews. Ideologies and political agendas often drive the direction and interpretation of research, producing vastly distorted images of the subject. There is a strong case for independent external audits by the funding sources to monitor standards of rigor, objectivity and quality.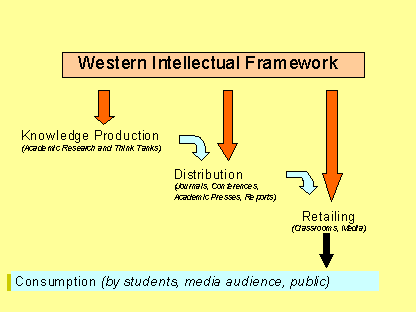 Role of US Universities in India's Brand Positioning
Universities have a high leverage in influencing American foreign policy and domestic attitudes towards minority cultures, for the following reasons:
1. Media: Universities influence the media by educating the next generation of journalists, and professors are often quoted and interviewed as 'experts.'
2. Government: The government is influenced because i. think tanks are usually linked to universities, ii. government staff is trained in universities' International Studies departments, iii. the US Commission on International Religious Freedom uses professors to help determine which countries must be red-flagged for sanctions for violating religious freedom, and iv. the US Congress has hearings on human rights. Furthermore, Amnesty, Human Rights Watch, the International Court, institutions of the European Union and United Nations, and other transnational groups call upon academic scholars to testify and help formulate policy.
3. Business: Business schools' degree programs and executive seminars inform corporate strategies on international activities, and professors influence globalization and investment directions.
4. Education: Colleges train schoolteachers. Many textbooks and reference works are written by professors.
5. Indian-American identities: Indian students' identities are shaped in their formative years in colleges, because this is when they first leave home. Young Indian intellectuals often follow the footsteps of Western scholars.
To illustrate this, consider a major issue today where academic scholars could be helping India. This is the outsourcing controversy in the USA -- as to whether it is good or bad for the US. The deafening silence of most scholars of South Asian Studies is noteworthy. Yet, the very same scholars have lobbied against India's human rights record at various public and policymaking forums and in campus seminars. This is to be contrasted with the pro-Pakistan appearances on US television and in media interviews by a predictable set of scholars, both Pakistanis and their Indian colleagues. (Note that the business schools have supported India's case for outsourcing, but not the South Asian Studies departments.)
The study of India is spread across several disciplines. Each discipline has its own standard filters, often built on postcolonial Marxism, which determine the scholars selected, what topics and methods they use, and the meta-narratives they apply. The disciplines in which India Studies are found are:
1. Anthropology that uses the lens of caste, cows and curry exotica, often based on unscientific dogmas about class conflicts.
2. History that continues to be based on recycling colonial and/or Marxist frameworks in many cases.
3. South Asian Studies (often an umbrella for all disciplines to be brought together) which is shaped by US foreign policy and focuses on nukes, Kashmir, terrorism, internal conflicts and divide-and-rule ideas.
4. Religious Studies which is based on the use of mainly non-Indian categories. This discipline is witnessing a recent trend to interpret Indian culture using Freudian theories to eroticize, denigrate and trivialize Indian spirituality. For a recent major flare-up concerning the academic denigration of Ganesha, and the Diaspora response to it, see: http://www.sulekha.com/expressions/column.asp?cid=305890
5. Media and Journalism perpetuates many stereotypes created by the other disciplines.
6. Literature and English project the narratives of English language authors from India, whose often self-alienated identities are hardly positive or genuine representations of Indian culture. Unfortunately, many intellectuals in Indian are emulating these standards.
Each discipline has its own conferences, journals, chairs, 'insiders' and 'gatekeepers,' and established funding sources. India Studies is largely funded and controlled by the following institutions: 1. Western (mainly US) universities, 2. US foundations (both religious and secular), 3. various Western academic associations for the humanities, 4. US State Department and National Endowment for Humanities, 5. Christian seminaries, 6. Democratic and Republican think tanks, and 7. Western human rights institutions.
It is normal, and expected, that the US would fund vast amounts of study pertaining to every region of the world from its own perspective. In fact, there is a recent bill in the US Congress that would further strengthen the federal government's grip on South Asian Studies in order to make it reflect US foreign policy interests. This is natural, and merely formalizes and publicly acknowledges what was always the case. The problem is not that others study India (which is, in fact, healthy input from the outside); the problem is lack of support for India-centric studies from institutions that have India's best interests and image in mind. Chinese, Arabs, Pakistanis, Japanese and Koreans have far greater control over the discourse concerning their respective brands.
The last two centuries of Indological studies have focused on the themes of divisiveness among Indians. This is today accomplished by constructing identities of victimhood with other Indians depicted as culprits: i. Western feminists are telling Indian women that they are victims of Indian culture. ii. Dalit activists are being sponsored to blame Brahmins.
[ii]
iii
. The divisive Aryan theory is being used as 'fact' to construct a separate Dravidian identity and to 'Aryanize' North Indians as foreign culprits. And
iv
. India's English language media is sometimes subverting traditions by glorifying everything Western and denigrating or ignoring everything indigenous.
The ultimate game plan of such scholarship is to facilitate the conceptual breakup of India, by encouraging the paradigms that oppose its unity and integrity. Many humanities scholars blatantly promote smaller nation states instead of one India.
South Asian Studies
The activities of scholars in each relevant discipline need to be studied. For example, there are over 500 scholars formally associated with South Asian Studies in American universities, and over half of them are of Indian origin, having been carefully groomed to fit the intellectual mold.
Yet, no Indian institution has systematically tracked the topics that the South Asian Studies scholars select and why, who funds this work, and the trends that underlie the theses of the past 25 years. Professional managers in corporate America would never justify investment in a field without first having answered such basic questions. They would be alert and suspicious to the keen interest shown in them by other players in the industry. Indian-American donors need to be more vigilant.
India, like China, deserves to be studied in its own right. It is one of the five or so great civilizations of humankind and world centers of the future. 'South Asian' studies often limit India by bracketing it with 'Pakistan' -- as mirror-images and/or as opposites -- and naturally gravitate to conflict rather than studying India in its own right. (Pakistan also deserves to be given a chance to develop a stand-alone identity that is not dependent upon India, positively or negatively.)
The very grouping known as 'South Asia' is a US State Department construction under a foreign policy initiative known as 'area studies' started during the Cold War. However, Indians may prefer to identify with Southeast Asia rather than South Asia. Shouldn't Indians make this critical choice of classification and framework rather than being dictated to by foreign think tanks and academics? In this regard, China controls its brand management, while India is simply being led.
SAJA (South Asian Journalists Association) illustrates how some institutions with the 'South Asian' nomenclature are compromising India's interests. SAJA consistently placates Pakistan. Its 5 percent Pakistani members leverage the collective power of SAJA to neutralize the 95 percent Indian members. Hence, it cannot write critically of Pakistan, leave alone assert a pro-India stance on Kashmir and other issues. But Pakistanis have a separate Pakistani Journalists Association in parallel, and, are also proud leaders of Pan-Islamic movements on campuses. They, clearly, do not suffer from cultural or identity shame. The Pakistani government is a silent but active force in these situations.
Are NRI donors being hoodwinked?
Now that many Indian-Americans are joining the bandwagon to establish chairs of South Asian Studies in the USA, one wonders whether they have thought through and contractually ensured that their funding would not be usurped by Pakistani interest groups (including Indians with this agenda). Pakistanis demand equal power in South Asian organizations. Even though they are numerically smaller and contribute much less funding, they usually end up getting an equal say in such organizations.
Therefore, it is critical that we do not blindly assume that Indian scholars are always honest trustees of the Indian-American donors' sentiments. Many Indian scholars are weak in the pro-India leadership and assertiveness traits that come only from strongly identifying with an Indian Grand Narrative.
They regard the power of Grand Narrative (other than their own) as a cause of human rights problems internally, failing to see it as an asset in global competition externally. Hence, there is the huge difference between the ideology of many Indian professors and the ideology espoused by most successful Indian-American corporate leaders. These Indian professors have a track record that shows a strong ideological stance against a unified India, often formulated using the latest literary theories that are grounded in Marxism, the very anti-thesis of the meritocracy that most successful Indian-American corporate leaders stand for. It is ironical that donors are naively funding such South Asian chairs.
[i]
By
JIM RENDON.
November 23, 2003:
http://www.nytimes.com/2003/11/23/business/yourmoney/23brand.html
[ii]
For example, Dalit activists sponsored by Western Institutions caused a great deal of embarrassment to India in a recent conference in South Africa, as they tried to get India officially labeled as a racist society. India started its affirmative action program long before America and yet India bashers do not point out the progress that has been made in India, and nor the colonial and economic origins of many of these problems not only in India but in many parts of the world.
Part II: Repositioning India's brand