The Rediff Interview/ Dr Farooq Abdullah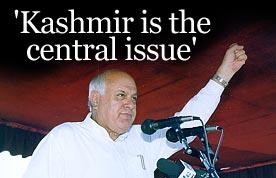 Jammu and Kashmir Chief Minister Dr Farooq Abdullah, elusive for the last 90 days, suddenly surfaced in New Delhi a day before the Agra summit.
Dr Abdullah was away in the United Kingdom visiting his family when the Centre prepared for Pakistan President Pervez Musharraf's visit.
As Dr Abdullah emerged from an hour-long meeting with K C Pant, deputy chairman of the Planning Commission, he seemed pleased with the additional budgetary allocation for his state. The Centre on Tuesday sanctioned Rs 2,050 crores (Rs 20 billion) for fiscal 2001. He told Senior Special Correspondent Onkar Singh he was not disappointed with the summit's failure and hoped future talks would bring peace to the state.
What was your immediate reaction to the failure of talks between India and Pakistan?
I did not expect too much from the very beginning. It is you people who were raising expectations. Kashmir is a 54-year-old problem and cannot be solved in a single meeting. It would take several such meetings to sort out this contentious issue.
Why do you blame the media for raising expectations?
I am not blaming the media. All I am saying is the media hyped it so much that Pakistan started thinking once the two leaders met there would be a toofan (storm) and India would sign on the dotted line.
While India wanted to discuss other issues along with Kashmir, Pakistan wanted to make J&K the central issue.
It is a central issue because all our problems are related to Kashmir. This cross-border terrorism is also a part of it. The Indian position is very clear, right from the beginning, that Kashmir is an integral part of India. It is not negotiable.
Was it a mistake to start the dialogue?
Prime Minister Vajpayee extended an invitation to General Musharraf for a dialogue. Holding talks is a good beginning. I am sure many more such meetings would take place in the future. The prime minister has accepted General Musharraf's invitation to visit Pakistan. The two leaders could meet in New York later this year. At least a beginning has been made.
Are you disappointed?
No, not at all. I am an optimist. I had said there is no need to be very happy about the summit. The higher the expectations, the more the chances of you falling flat on your face and hurting yourself. There would be several rounds in the future before we reach somewhere.
Militant outfits in Kashmir have threatened to step up violence following the failure of the talks. How do you propose to meet this threat?
Did they stop killing people and attacking the army and paramilitary forces when the summit was about to be held in Agra? If they step up violence, then we will give them a fitting reply. Hum churiyan nahin pahen rakhi hai (We don't wear bangles). I am confident the entire nation will be behind the J&K government to meet this challenge from militant outfits. We are not going to bow down to threats from any quarter.
For one-and-a-half months you maintained a studied silence and said nothing about the summit. Why?
I have never said anything. Even now I am not saying anything. If my silence can help, then let it be so.
What makes you feel there will be more talks between Prime Minister Vajpayee and General Musharraf?
There were four good meetings between Prime Minister Vajpayee and General Musharraf. When the general went to say goodbye, the one to one meeting lasted over an hour. That is what gives me hope. You should also realise this was the first time (they met).
Pakistan maintains it does not support terrorist activity in the Valley.
The time will come when Pakistan will admit it has been supporting terrorism in the Valley. Kashmir is an integral part of India. Pakistan would have to concede this sooner or later.
You met Mr K C Pant to discuss the plan outlay for your state. Are you happy with the outcome?
I had a good discussion with K C Pant. We discussed the outlay for Jammu and Kashmir. The Planning Commission has sanctioned Rs 2,050 crore for 2001-2002.
Are you happy with the sanction?
We have received Rs 300 crore (Rs 3 billion) more than last year, but we would fall short of Rs 400 crores (Rs 4 billion) and have to find resources from somewhere to fill this shortfall. Whether I am happy with the sanction, I would say I am always happy.
ALSO READ:
Indo-Pak summit: The complete coverage
The Bus to Pakistan: The complete coverage