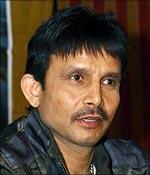 Despite his aggressive and rude behaviour, Kamal R Khan makes a return to the Bigg Boss house tomorrow.
The Bhojpuri actor was thrown out of the house when he threw a water bottle at housemate Rohit Verma. But now, the same housemates who were against him are expected to welcome him back.
What do you think about the turn of events in Bigg Boss 3? Do you think Kamal's return to add more spice to the show, and raise its TRPs again? Or do you think the show was better off without him?