Anurag Kashyap is no ordinary filmmaker. Be it the gritty Black Friday or the never-released Paanch, he has broken new ground with his films, often not giving a damn about mainstream taste.
No Smoking was another example, with some hailing it as a landmark and others hating it just as much.
The unputdownable director is back with Dev D, an ultra-modern take on that old tale about a man who drunk himself dead silly for a girl. And if the music is any guide, the film holds the promise of being an edgy roller-coaster ride.
There are 18 songs in the album. Yes, you read that right, 18, but probably 'songs' is not the right word. They are snapshots -- of genres, emotions and situations. It's less of an album, more of a kaleidoscope that never stops whirring.
And it is likely to evoke extreme reactions -- you'll either love it, or hate it.
Whichever side of the fence you jump onto, there's no denying the sheer effort that has gone into the making of this soundtrack. And just for that, the makers need a pat on the back. This is brave music.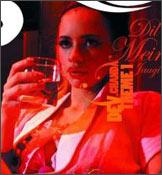 It launches off with a brass band -- of the shaadi kind -- backing a song that goes Tauba Tera Jalwa, Tauba Tera Pyaar, Tera Emosanal Atyachar.
Before you can really register the shock -- pleasant or otherwise depends on you -- you find yourself lurching to the break-beat-meets-rock of Duniya, one of the standout songs of the album, sung by Amit Trivedi, who is the music director for the film as well. A fresh new talent for sure.
Next up is Nayan Tarse, which begins almost like a Pink Floyd song and settles into a nice lounge-fusion groove. Then comes Pardesi, along the same Indian sounds meets electronica meets irreverent lyrics vein.
Kahaan Chali Gayi Hai Saali Khushi says it all with that line. But it's no drown your sorrows ballad; it's bitter, dark and listenable.
Beyond this point, you just let go of songs, singers and song numbers. It's that kind of an album -- that works as ambience.
Don't get me wrong, this is not an album you can have playing in the background. It demands attention -- a rare quality in Bollywood soundtracks -- maybe overpoweringly so.
But, as you are transported through the almost hip-hop treatment to Paayaliya, the in your face Punjabi of Mahi Menu and Hikknaal, the dark trance-ish vibe of Aankh Micholi, the almost Broadway-ish Yahi Meri Zindagi and Dil Mein Jaagi, the folk feel of Dhol Yaara Dhol and the almost Queen-ish Ek Hulchul Si sometimes, you wonder whether the soundtrack tries too hard.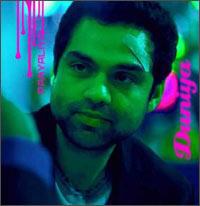 All the songs -- bar none -- go through movements that definitely can be the bed for some very engaging and edgy cinema. But you can't help but wonder whether the songs work without the visuals.
But then again, this is a soundtrack that screams 'I am different'.
And while most albums have remixes of a song or two, this has a rock version of Emotional Atyachar. For all those who complained Rock On!! was too sissy, you cannot say rock is not a part of Bollywood 2.0 if you listen to this one, sung by ex-Kolkata rocker Bony Chakraborty.
The Dev-Chanda theme is nice, but maybe it could have been emotionally more engaging one, nice as this one is. In fact, that's the biggest drawback -- there is no one anthemic song, though most are nice in parts.
Over all, pick up this CD -- which zigzags through genres and boasts of some deliciously cynical lyrics and treatment -- if you're in the mood to experiment. But be warned, there's no saccharine sweetness.
Rediff Rating: