'
Chakh le, chakh le, yeh raat shehed hai, chakh le
,' loosely translated as 'Taste it, taste it, this night is nectar, taste it.' They're words that embody the way the
Slumdog Millionaire
team must currently feel on this wildly successful Oscar night. They're words, or course, from the Oscar-winning
Jai Ho
, words penned by Academy Award winner Gulzar.
Hell, it feels incredible to write a sentence like that. Indian cinema has gone from winning two Oscars in all its lifetime -- a lifetime achievement Honorary Oscar for Satyajit Ray, one for Bhanu Hathaiya for Costume Design in Gandhi -- to adding three more in the same day. Wow.
Danny Boyle, that blessed blessed genius, deserves every bit of applause along with his masterpiece, doubters be damned. I loved Slumdog Millionaire the minute I saw it (five stars, et al) in New York City in January. My heart burst with pride as the entire audience of an arthouse theatre rose jubilantly to its feet and stayed there all through during the end credits, revelling in every second of the glorious Jai Ho finale. You can't deny this film its heart. And it captured mine, as this unashamed love letter confessed, while asking random detractors to grow up.
The 2009 Oscars have been swept by an independent British film, and while it's ridiculous for us to appropriate Slumdog Millionaire as our own in any way, it's inevitable that we get goosepimply with excitement for its largely Indian crew.
For AR Rahman, that most incredible of Indian composers, who will surely be composing music for the Coppolas and the Cronenbergs of the world. For Resul Pookutty, the modest yet masterful sound engineer who picked up a statuette for Best Sound Mixing. For Gulzarsa'ab, for being such a rockstar and Bollywood's greatest poet, and writing songs that tell us it's okay to burn your fingers as long as you're reaching for the stars.
For Mumbai chica Freida Pinto, who walked arm in arm with the legendary Liam Neeson to give out an Oscar, a star after her very first film. For Anil Kapoor and Irrfan Khan, who, along with co-director Loveleen Tandon and the film's incredible kids, joined producer Christian Colson as the film's entire crew assembled on stage to accept cinema's most widely acknowledged honour, the Best Picture Oscar.
For India, which proved that its talent -- its technicians, its musicians, its actors -- are world-beaters on every level.
And this even as Smile Pinki, a documentary based in India, beat out The Final Inch, another documentary based in India, to win Best Documentary Short Subject. We've always known we were the land of a billion stories, and now the world wants to just tap into that magnificent sea.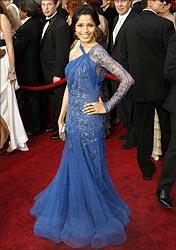 Outside of India, the awards were dull and predictable. Sean Penn in Milk edged out Mickey Rourke in The Wrestler to win Best Actor, and while debatable (I'm in Mickey's corner all the way for an extraordinary performance), this really wasn't an upset. Kate Winslet finally got her Oscar, that insanely talented actress getting nominated for six trophies over the years, and this when she's just 33. Benjamin Button won unsurprisingly for Best Makeup, and Heath Ledger was celebrated for his now iconic turn in The Dark Knight. So yeah, outside of India the Oscars were dullsville.
But then they were hardly ever outside India, innit? Slumdog won 8 out of 9 possible categories, while Smile Pinki won 1. Freida Pinto got to present the Oscar for Best Foreign Film. And Ben Kingsley, the actor routinely mistaken for Mahatma Gandhi by Indian newspapers every year, stepped up on stage during the Best Actor presentation. This was as Indian as the Oscars could possibly be without a Daler Mehndi performance and Hugh Jackman in a dhoti.
(Aside: it was also a pretty fun night for a comicbook geek. Wolverine hosted the Oscars, Marv from Sin City almost won, Iron Man deserved to win but the Joker stole his award away. Par for any crossover-filled comicbook annual, heh.)
It's been an incredible night for India, and AR Rahman carried our baton in spectacular style, breathlessly delivering knockout performances of his nominated songs seconds after picking up his first Oscar for Best Score.
Many years ago, in one of his most iconic performances, Amitabh Bachchan had boasted of all his possessions, of his bungalow and car and much more, and asked what his brother possibly had to match it all. Now, with Bachchan critiquing the film -- one that celebrates him like crazy -- vociferously since before he even watched it, AR Rahman used the same words that were used to shut the legendary actor up in the classic film.