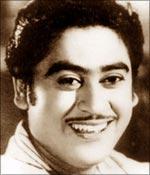 Nobody can yodel quite like Kishore Kumar.
This musical genius, who could act just as well as he could sing, has enthralled us with his songs in films like Aradhana, Andaz, Hare Rama Hare Krishna, Kora Kagaz -- most of which have stayed with us for years to come.
So on the occasion of his 80th birth anniversary on August 4, we would like for you, dear readers, to celebrate the legend's music by singing your favourite Kishore Kumar number.
All you have to do is sing your favourite Kishore song on video, either on your cell phone or on a video camera, and post it on Rediff IShare.
This is how you can do it:


To facilitate easy viewing of the videos, name them like this: your name-tribute to Kishore.
Please record the songs and mail us the Rediff IShare link.