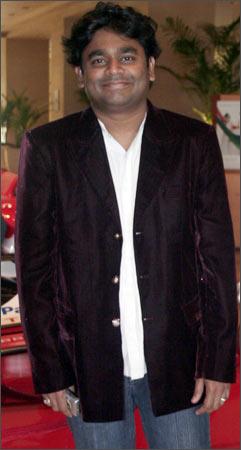 The Maharaja of modern Indian music, A R Rahman, has talent and vision the stuff of legend, a unanimously recognized musical genius that comes around once-a-generation.
So it was only a matter of time before Hollywood scooped him up and sampled his skills; and that's exactly what happened, first in Elizabeth: The Golden Age, the musical Bombay Dreams and now in Danny Boyle's mega-hyped, Mumbai-based Slumdog Millionaire.
As evidence of his rising celebrity, and to give you insight into the creative process behind the beats of Boyle's masterpiece, we point you to this interview from the prestigious pages of New York Magazine -- a lifestyle mag known especially for its fashion/celebrity/arts/gossip coverage, which always seems to be on the cutting edge of what's in, what's cool and what's happening.
So, given the elite-ness of the publication, this brief QnA session undoubtedly portends great things for Rahman's Hollywood future. And it appears a more comprehensive future is indeed likely.
In the interview, an effusive Rahman has nothing but kind words for director, calling him not only a fast worker and humorous, but also a 'good human being.'
Explaining the differences between working for Hollywood and Bollywood, Rahman says, 'There's not many cues in the film. Usually a big film has 130 cues. This had just seventeen or eighteen: the end credits, beginning credits, that stuff.'
He went on to say that, 'It took two months of planning, two weeks of completing. Usually it takes six months with the musical films I'm doing in India.'
But does the film's music, which is earning near-universal praise from critics, paint an accurate aural portrait of Mumbai? Rahman believes that, 'The soundtrack isn't about India or Indian culture. The story could happen anywhere: China, Brazil, anywhere. Who Wants to Be a Millionaire is on in every damn country.'
Yes, really and truly, it appears that the West has woken up to India. We have a feeling Hollywood isn't quite finished with the uber-talented Rahman. So stay tuned!
Photograph: Rajesh Karkera