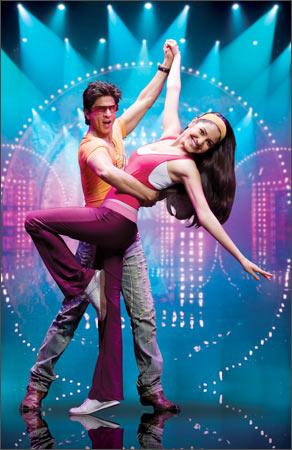 For all those who are eagerly waiting to know more about Shah Rukh Khan's latest film, Rab Ne Bana Di Jodi, here's an interesting bit of news.
The first theatrical promo of the film will be released in theatres on November 14, during the screening of Karan Johar's Dostana.
Very little is known about the movie so far. There are many theories floating around on the Internet about the story of Rab Ne Bana Di Jodi. Some say that Shah Rukh Khan's character gets married to Anushka Sharma's because of a passion for dance.
According to the grapevine, a simpleton Surinder Sahni (Shah Rukh Khan) loves his wife but is unable to reach out to her. Meanwhile, a dance competition on the lines of the dance show Nach Baliye is held in town.
Seizing his chance, Surinder transforms himself from a simpleton to a hip personality with a new name -- Raj Kapoor. He partners with his wife, who is unaware that her dashing dancing partner is really her husband. She gradually starts falling in love with Raj only to realise the fact that he is her husband.
Now we don't know how much of this is true. Shah Rukh, on the other hand is more than happy about the buzz his latest film is generating.
"Everyone has his own story about Rab Ne Bana Di Jodi. And on the Internet you find amazing storyline of this film. I am happy to know that people are talking about this film," the actor said in an earlier interview to Rediff.com.