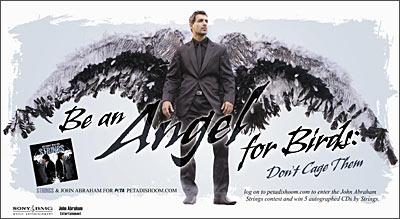 John Abraham, one of the hottest vegetarians in the country, supports the birds in his latest PETA ad.
Wearing huge angel wings, the actor proclaims, ' Be an angel for birds. Don't cage them.'
The ad is a shot taken from the music video of Pakistani pop sensation Strings' new release, Koi Aanay Wala Hai, where John plays an angel.
This isn't the first time John has teamed up with PETA to speak up for animals. He signed PETA's petition to ban elephants from urban areas, and wrote to the Goan government urging it to take action to stop the cruel and illegal backyard slaughter of pigs.
In 2005, Abraham shot another ad supporting birds, in which he appeared shirtless.