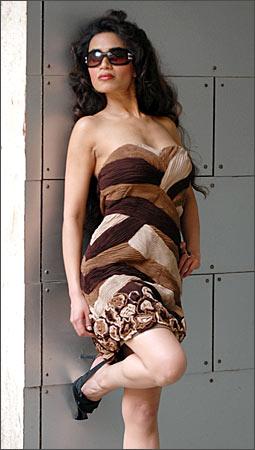 Here's a snippet that will send temperatures soaring even higher in the summer heat: Bond girl Zaara Adams was in Mumbai scouting for some Indian styles to suit her Bond look, and chanced upon eyewear brand Mojo.
"I have a squarish face, so framed styles look better on me than rimless styles. Also, I always take care to see that the definition of my eyebrows is visible above my eyeglasses," she explains.
Hailing from an orthodox family in Pakistan, Zaara stars opposite Daniel Craig in the latest Bond movie, Quantum of Solace.
On a personal trip to the country, Zaara said that she was 'just spending time with a few associates.'
"Everything about India is hot now -- and I love this country full of enterprising, energetic people," she says. "I love the biryani, the pani puri and of course, Mumbai's vada pav."
She also met up with producer Sanjay Gupta and expressed an interest in organising a charity show in Mumbai. "I am planning on getting some merchandise from the Bond shoot and do a charitable show with my friend, designer Archana Kochar," she reveals. "In fact, I am wearing some of her clothes in the Bond movie."
Text: Pavithra Srinivasan