Woke up and logged on to the news to read a headline that made me read it thrice, and then think it was a particularly tasteless Warner Brothers marketing stunt.
'Heath Ledger found dead,' it said. Oh come on, it must be a typo, right?
The 28-year-old Brokeback Mountain star was just hitting his stride, for God's sake. He did good in Candy, got solid reviews for being one of the Bob Dylans in I'm Not There, was all set for The Dark Knight and was shooting The Imaginarium of Doctor Parnassus, his second movie with Terry Gilliam.
A few weeks ago, following the superb Dark Knight viral marketing campaign online, I stumbled onto a feature I can't now find, one that talked about just how Ledger worked on this hideous reworking of comicdom's greatest villain.
It was always going to be hard trying to step into the shoes of a character immortalised by Jack Nicholson. However, Burton's character was a classic noir-camp combination, while in Nolan's highly anticipated film, the character of The Joker is based on his first two comic-book appearances, plus Alan Moore's poignant retelling in The Killing Joke.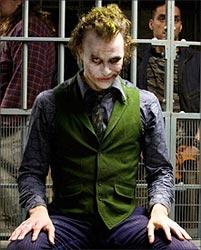 Trying to tap into the insanity of the macabre green-haired supervillain, Ledger based his performance on eventually demented Sex Pistols bassist Sid Vicious, and the vile 'Alex' from Stanley Kubrick's rendition of A Clockwork Orange.
Heath admitted it was an 'extremely difficult' role and the aforementioned article said he lived alone in a hotel room for a month to develop his performance. This exercise gave him insomnia.
Now, I can't help but parallelly imagine him rehearsing Joker lines in a messy room, while reading about him lying alone and naked in a Manhattan apartment, with a massage scheduled yet never to happen. It seems lyrically tragic. While I'm not suggesting that the role drove him to suicidal depression, I do believe self-willed dementia is a more potent force than most of us imagine.
Vicious died at 21, while Ledger's rock idol Kurt Cobain killed himself at 27, an all-consuming age, an age that snatched up Jim Morrison, Janis Joplin and Jimi Hendrix. The difference with Ledger, who died a year later, was that he was just getting started.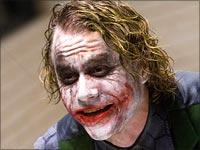 For all we know, he has likely left us a magnificent performance, one that consumed him to the full.
But no act of -- or for -- art is worth a human life, and we'd all rather have him in a bad film, where he'd fall tackily into a bucket of acid, only to bounce back with a cheesy grin and superpowers. 'Kapow.' Sigh.
Damnably, it was no typo. A fine young actor, nicknamed Heathy by friends and family, is no more. It's devastating and wrong.
Heath Ledger, we'll miss you. And what you would have been.