It's been six years since Raaz spooked us. And now, its sequel with an all new star cast and director is set to do the same.
If the predecessor boasted of chartbuster music from Nadeem-Shravan, Raaz: The Mystery Continues, directed by Mohit Suri and starring Emraan Hashmi, Kangana Ranaut and newcomer Adhyayan Suman, has a quite a range of composers helming its soundtrack.
The album opens with the rocking Sharib-Toshi offering, Maahi. A feverish blend of eager emotions and seething intensity, singer Toshi fervently conveys the impatience of both an aroused soul and perceptive lover in this Enigma-inspired ditty. Its other version, Rock with me, aims to please club-hoppers with its electrifying acoustics and blazing synthesiser.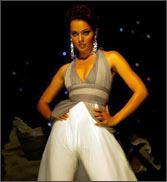 While Neeraj Sridhar opens this silvery romance mantra, Soniyo with his trademark fluency through the medium of gooey English lyrics, Sonu Niigaam and Shreya Ghosal take it from there to paint a lovey-dovey picture of hand-in-hand. Another rendering of the same, by Krishna, takes an even mellower route. Undeniably mellifluous in temper, this Raju Singh number is often reminiscent of quite a few Pritam creations in style and sound.
Singh returns with dynamic KK in tow to croon O Jaana, again to ooze sentiments resembling that of Maahi. Unlike Maahi's haunting resonance, however, O jaana is content being a run-of-the-mill pop piece. It's Dance with me remixed version by DJ Suketu fares better with its spiffy, retro, Kraftwerkish arrangement.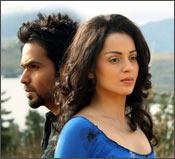 Remember the lingering, somewhat eerie undertones in the sinister tune of Dastaan-e-Om Shanti Om? Composer Pranay M Rijia treads similar territory through KK's evocative baritone and the quizzical notes of Kaisa yeh raaz hai. Even so the impact is mostly diluted, simply because there isn't enough drama or urgency in its tone.
Gourov Dasgupta contributes to the Raaz 2 playlist with his ode to Godliness, Bandaa re. Amidst heavy-duty chanting of Bhagvad Gita and supernaturally-caused tension, Krishna waxes eloquent on the power of faith and how the almighty resides within us and not in temples or mosques.
Music has always enjoyed an important place in most Mukesh Bhatt productions, the new Raaz, though not in the league of Gangster, Woh Lamhe or Kalyug, does have its moments.
Rediff Rating: