Back in 1980, a young filmmaker stood outside the US Visa Consulate in Mumbai, annoyed by the guard -- both for needlessly talking to him in English, and for brushing him off. Vidhu Vinod Chopra had just returned from Delhi, where then Information & Broadcasting minister LK Advani had granted him a passport.
It was a Saturday, Chopra reminisces, and the Oscars were on Monday. He was furious, ready to go on hunger strike outside the consulate. "A gora came up to me and asked me what they had to do with me. I showed him the PTI copy in the newspaper." It was a small story buried on an inside page, pointed out to Vinod by a journalist friend. "Chhoti si news item thi. He looked at it and asked me who I was, and I had to convince him I was Vinod, and I was nominated!"
Indeed. Made for $100, Vinod's documentary An Encounter With Faces was nominated in the Documentary Short Subject category, and the young filmmaker was nervously readying for his first trip to America, to see if he won. Mr Advani, he laughs, had generously given him a $20 daily allowance.
In the US, he was up at the Patel Motel where a man called Michael London from the Academy arrived in a limousine to pick him up. He was in his knickers. "And Michael London wore a tux and kept asking me where he could see Wy-Nod Choppra, and if this was the right room. He was very doubtful. And it took a few minutes for him to realise that I was the nominee, and despite his tuxedo, his whole body language changed," guffaws Chopra, breaking into the warm expletives the American affably used as he relaxed with the young nominee.
"The ceremony was unbelievable. We were trained exhaustively, all the nominees, to not walk up and down during the ceremony. So I sat stiffly in my seat, but I saw this woman walking around. So I went up to her and told her how we had been trained to behave, and she was most apologetic. It was a little while later that the Best Actress award was announced and she went up to take it! It was Jane Fonda [winning for Coming Home] and I apologised to her but she was very nice about it, telling me she was impressed by how strictly I was trying to follow the rules."
Wow. And that's not all. A drunken friend interrupted a conversation Francis Ford Coppola was having with Michael Cimino (The Deer Hunter director who had just won the Oscar) to introduce The Godfather director to Vinod. Coppola, most encouraging after watching Chopra's nominated film, hired him at his American Zoetrope production-house in Los Angeles. Chopra worked for about a week. "At that point of time, I was in love with [late editor and first wife] Renu Saluja, who was really sad about my being away. So I came back, wanting to live happily ever after."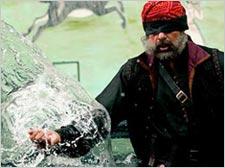 That was nearly 30 years ago, back when Jimmy Carter was President of the United States. Now, Vidhu's Eklavya has been chosen as India's official entrant for the 2008 Oscars, and he's all set to campaign as the Academy demands entrants to.
He is, however, a little fazed by all the controversy. A filmmaker called Bhavna Talwar feels her Dharam was a better film, and has sent a legal notice to the film federation. Various filmmakers and jury members have personally said they don't think Eklavya is the best film. The fact that it won based on votes among the members now seems almost irrelevant as filmmakers who haven't made a movie in years -- or those whose films get neither reviewed nor watched -- seem to have a soundbyte-friendly opinion on Eklavya's inclusion.
"It's annoying. Last year, most people agreed [his production] Lage Raho Munna Bhai was the best film, but it wasn't selected for the Oscars. I didn't start talking to the press about the unfairness of it all. The year before that, [his] Parineeta wasn't selected. Why should I complain? There is a democratic process in place. Now Eklavya has been chosen, the film got rave reviews from the foreign press, and I am going to support it like it deserves to be," he says.
It does seem the most likely choice, especially given the other four contenders. Chak De! India is as generic as a sports film can get, and the genre is over-explored in Hollywood; Gandhi My Father is a critical disappointment; Guru is a bloated biopic; and nobody really watched Dharam.
And then there's the inaccuracy. "Call my film a bad film, sure," says Chopra, mentioning a report in a national newspaper. "But the story says it ran for three weeks. At least, get your figures right." He has a point. Even the biggest detractors of Eklavya acknowledge that the film ran for at least a 50-day period, enjoying a 100-day run in some centres.
"You know the film of mine that did bomb, the one that did run for three weeks?" Chopra asks, playful menace in his tone. "Parinda."
Whoa. His 1989 gangland masterpiece -- also an official Indian entry to the Oscars -- left an indelible mark on cinema that came after. "Now, I don't know why Eklavya didn't work," he continues. "Maybe the critics here didn't quite get it. I got a great response at UCLA and NYU, where they're asking me to lecture about the film. They must have seen something. But answer me, why didn't Parinda work at the box office? It had two brothers, bullets, bad guys, a woman. Still, it flopped."
Success doesn't seem to matter much to Chopra, who took the Parinda disappointment in his stride and directed a Pepsi commercial to buy himself a car. His last few films, Mission Kashmir, Kareeb and 1942 A Love Story failed to set cash registers winning. Chopra doesn't care, wanting to make cinema that appeals to him, that he thinks is good enough.
"There are two kinds of cinema in India. There is a temple of cinema, which we do, where we make cinema we like, because of our love for cinema. And then there is a brothel of cinema, which is all about what will sell, what will appeal to the masses," he says. "The overall agitation of cinema in India is so low, so slow. And what are they used to? An actor showing a bare stomach and every news channel in the country doing a special on that stomach? What has that got to do with cinema?"
Chopra leaves for the US on October 2, and is going to spend two months there in preparation for the Oscar campaign. Meanwhile, he's scripting [Munna Bhai maker] Raju Hirani's next film and an ambitious sci-fi epic, Taalisman. Right now, he doesn't want to leave any stone unturned for Eklavya's chances, standing by the visually breathtaking film.
"More people will go to the brothel of cinema because it offers instant, more base satisfaction," Chopra says. "Great, and I hope those films make lots of money. But just because you have a brothel, don't run down my temple."