I came out of Anurag Kashyap's No Smoking asking 'What were they thinking?' No make that 'What were they smoking?'
The movie unfolds like a bad dream and spins into a downward spiral that's unreal, incomprehensible and leaves you dazed.
The movie begins innocently enough. K (John Abraham) is a heavy smoker and an unapologetic one at that. His wife Anjali (Ayesha Takia) is fed up with his habit and is set to leave him. There are early signs of the trouble ahead, when K, in his bathtub, has a surreal dream of being lost in Siberia without his cigarettes.
But trouble starts when Anjali finally leaves him. K decides to consult a Baba to help him quit the habit.
K's life and the movie descends into chaos from here on. From the depths of the Baba's (Paresh Rawal) dungeons (for lack of proper word for it) deep in the bowels of Dharavi or some such Mumbai slum, the movie goes out of control.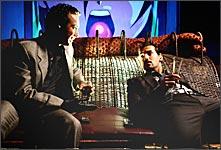 It is peopled with strange characters and situations. There's Ranvir Shorey (Abbas Tyrewala), who returned from the Baba's 'lair' hard of hearing and a couple of fingers lighter. Kiku Sharda (the doctor), who also made a trip to the good Baba's abode. Then there's Ayesha Takia (now she's Anjali, K's wife, now she's Annie, his secretary). There's also J, K's brother who speaks only German if you will. They are all support staff in a tableau that seeks to showcase John Abraham. 
You can bet it's not your average Bollywood flick. It's a flick like no other, trust me.
If this is the much touted noir genre of filmmaking, then two hours of this is enough for me.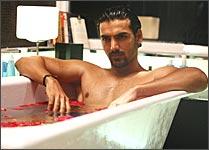 John Abraham said in an interview to rediff.com that No Smoking will give rise to a new genre of filmmaking. Sure it will and that genre will have this one film.
This is self-indulgent filmmaking. It's narcissistic and vain-glorious -- that totally ignores the sort of audience that may end up watching it. It may be cheered at some out-of-the-way film festival -- but it sure won't either at a suburban multiplex nor a tent cinema in Tamil Nadu or Bihar.
And as you may have gathered, I still have no clue what the movie was about. And quite frankly, I don't want to know.
Stay as far as away from this one.
Rediff Rating: No stars