Telugu megastar Chiranjeevi's younger brother Pawan Kalyan deposited his licensed US-made revolver at the Jubilee Hills police station in Hyderabad on Monday morning.
Kalyan told the media he decided to 'surrender' his licensed weapon to the police. "I don't need (it) any more as there is no threat to my life now," he said.
Talking about the incident when his brother's younger daughter Srija eloped and married her boyfriend Shirish Bharadwaj on October 17, Kalyan said, "Srija ran away from home without telling us. She was in love and she took this step. It is okay to run away. But she told the media that she got a threat to her life from the family. This (allegation) is unfortunate. Everyone in the family loved this child so much. Her mother (Kalyan's sister-in-law) is unwell and was hospitalised out of shock after Srija ran away.
"I wish them (Srija and Shirish) well wherever they are," he continued. "I hope she is comfortable. I would like to assure her that no harm will come to her or the boy. I don't have any hired goondas (goons) or musclemen. I have come to surrender my revolver and its license to the police because I don't need this weapon now.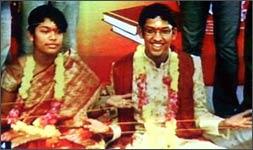 "The police have more important tasks to do like tackling terror and goondaism," he added. "They don't have to waste their time on chasing couples who have love marriages," Pawan said, obviously referring to reports in a section of the media that the city police had launched an 'informal' manhunt to trace the couple and were harassing those who were 'suspected' to have helped in the wedding.
Srija, 19, and Shirish Bharadwaj, 22, got married at the Arya Samaj Mandir at Bowenpally, Hyderabad.
Jubilee Hills Circle Inspector M Srinivas Rao said Pawan Kalyan had a valid gun license since 1998. He possessed a US-made Damson six-chamber, .22 caliber revolver. He had obtained the revolver when he was a member of the Madras Rifle Club.
"He has temporarily deposited the weapon with us," the inspector said. "He has not cited any reason for doing so. He can take back the weapon if he wants to."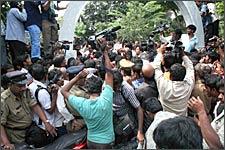 Chiranjeevi has also blessed his daughter and wished her happiness. In a brief statement on Saturday, Chiranjeevi pointed out that as a father, he was shocked to hear the news of his daughter's sudden marriage. "Her sudden decision has shocked all of our family members," he said. "But once reality dawned on me, I realised that the most important thing is my daughter's happiness. All the members of my family feel the same. Wherever she is, I wish her all the best."
The star thanked his friends and well-wishers who supported his family during the period and sought their blessings for his daughter.
Meanwhile, the Delhi High court has granted police protection to Srija and Shirish, who perceived a threat to their lives.  
"Delhi police would be kept informed by the petitioners about their residential address in the capital. The police shall give necessary protection so that their lives face no danger," Justice S N Dhingra said. The couple was present in the courtroom during the hearing. In their petition, they cited the recent case of Rizwanur Rehman and expressed apprehension that the Kolkata incident might be replicated on them.
However, Advocate Maninder Singh appearing on behalf of Chiranjeevi's family, refuted the allegations and said the actor had issued a public statement stating that he blessed his daughter and that there was no threat to the couple from his family. He further contended that the family should be given some time to file the reply. The court then adjourned the matter till October 29 and directed Chiranjeevi to file his reply by then.
With inputs from PTI
Photographs: Snaps India