Hush up and lean closer to the screen, my curious friend. Because over the next few lines, I am going to tell you exactly what Om Shanti Om is. Exactly -- a word (if accurate) used rarely, but this boast is smug and self-assured, rather like Shah Rukh Khan's Om Kapoor. But hang on, we're getting way ahead of ourselves.
So just what is OSO?
Picture a Filmfare award function, minus the awards. Outside of the song-and-dance numbers and the gazillion commercial breaks, there is stock Bollywood tomfoolery. SRK mimics Aamir, Saif pretends to be Preity, star kids dance to their father's songs, and much guard-down hilarity is had by an industry thriving on gossip and in-jokes.
Om Shanti Om is a big-budget collection of these award-show skits, loosely tied together by a reincarnation story dhaaga. Bas. Told you I'd be exact.
The aforementioned thread is plot-bare, woven from Manmohan Desai's most worn jumpers, and laced together with nostalgia and a complete, unashamed lack of subtlety. This is not the 70s as they were, but a celebration of the decade as old Hindi movies showed it to us, a world of Technicolor convertibles and flares and bling and outrageousness and hamming and tan-tan-ta-da background scores, all in a day's work.
This is a big movie, well and truly in love with itself. And if you aren't into that sort of thing, if you pooh-pooh Koffee With Karan, and if you'd really rather watch a movie you have to think about, skip this. For the SRK-hater, the warning is doubly applicable. This is a celebration of the ultimate in self-achievement, Shah Rukh toasting his own indomitable Khan-do spirit.
For the rest of us, this movie is a smile.
Bollywood is bizarre and campy and over-the-top and unprofessional and snide and egotistical and sporadic and dynastic and facetious and utterly self-smitten, but -- without even going into the numerous positives -- that's just why we love it. That's the nasha of Mumbai's movies -- these unreal vehicles of escape soaring from cliche to cliche on superstar-wings -- and their madcap makers.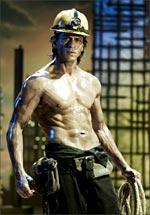 Om Shanti Om is an exultant, heady, joyous film reveling in Bollywood, and as at most parties where the bubbly flows free, there is much silly giggling and tremendous immaturity. You'd do well do breathe in the filmi fumes, lift your own collar-tips upwards, and leave sense out of the equation. More cameos are written in than dialogues, so sit back and play spot-the-celeb. Or watch the Khan have a blast on screen.
Make that the Khans. The King is all super and funny and awesomely sixpacked, but Queen Farah is one to be toasted, just for her sheer bindaas enthu. No gag is too obvious, no plotpoint too ludicrous and no cliche too overused -- in fact, the more overused the better, decides she. And if the result of her damn-the-detractors attitude is a magnificent scene with Shah Rukh wrestling a stuffed tiger and using all kinds of pussycat phrases with a thick Tamil accent, I say hats off.
You really want to know the story? The story of this film? Please, go read another review.
All I can say is that Khan lives, Khan dreams, Khan loves and Khan dies. In between -- as mustachioed cowboy and outlandish black-red costumed superhero -- Khan even flies. And that's all during a super-fun first half, while the second sadly tries to be a real movie. The latter could have sunk the movie, but despite it's total pointlessness, is pretty much salvaged by the songs. No, really. Talk about phrases you never think you'd write.
Shah Rukh Khan is, well, you know who he is. He's the biggest movie star on the globe, and this film lets him cock a snook at all that megalomania. Here he plays both wistful junior artiste and bratty star-kid, and he has an absolute blast. This is a role that requires him to overact in almost every frame, which is far harder than it sounds. And because he's Shah Rukh Khan and there is love at the core of this film, he manages to bring credibility to the romance, heart to the joke. And that is no mean feat.
The woman who catches his fancy -- and his lucky red thread in her dupatta -- is the extremely fortunate Deepika Padukone. The director uses her with great cunning, making her turn and smile while Shah Rukh does all the melting. She is used sparingly and constantly camouflaged, either by a situation which requires acting incompetence, deftly digitalised song sequences or a complete lack of fabric in the second half. I'm not claiming the 'find of the year' can't act; it's just that this film doesn't require her to. OSO needs for her to be a dreamy girl, and this she delivers on, dimpled smiles and all. There is effervescence and luminosity around this pretty girl, but art director Sabu Cyril and cinematographer Manikandan have some credit there.
Shreyas Talpade is reliably top-notch in the first half, and cut-out of most of the second, where he ages like a TV soap character. Similar grey-streak aging is applied to Kirron Kher, playing a stock character. Javed Sheikh is interesting as romantic star Rajesh Kapoor, and Arjun Rampal is finally cast right. Among that much-discussed 31-celebrity dance, Tabu looks the most incredible. I wish Farah had done without the lookalikes, but paying off her debts to Subhash Ghai in the beginning kinda makes up for it.
Farah, thanks. As someone who has to sit through a million movies, mostly suspect, week after week -- and to someone who has to toil through it and bear the tabloid attention -- this is a reminder of what we like about Bollywood, what makes it so special. Thanks also for reminding us of the number of people who work on a movie, and that spotboys aren't just young kids in half-pants. Ms Khan makes me want to take her out on the town and dance (I can't, but she'll make up for it) to dhinchak Bollywood songs all night. If you're reading this, Director Saheba, call me.
Oh, and somebody please make Akshay Kumar's Return To Khiladi. That has blockbuster written all over it. Please?
Rediff Rating: