When art becomes ambiguous farce, it loses credibility. And without a point to make or a story to tell, it is meaningless.
Yatra
, in that sense, is a journey to nowhere.
Acclaimed filmmaker Gautam Ghose wants the viewer to believe his main protagonist is this wonderful achiever. But all you see is a depressed, disagreeable drunk who quotes well, breaks into an occasional giggle, lingers in his past, mocks his present and wrecks his future.
The story starts with a writer called Dashrath Joglekar (Nana Patekar), presumably in his early 60s, limply signing autographs in a Hyderabad bookstore. Apparently, he's a highly respected literary figure about to receive an award for his latest novel,
Janaza
. Even though he doesn't acknowledge it to be autobiographical outright, an important chapter of the story is inspired from his own reality and experiences.
In the backdrop, we are introduced to his simple family: animated mother, sweet natured wife (Deepti Naval) and well-behaved kids.
Joglekar is a man of perplexing temperament. Most of the film is more or less a documentation of his behaviour. His cynical humour, semi-Utopian idealism and traditionalist methods do not see eye to eye with the materialistic society of today.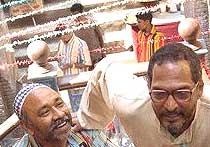 Acerbic eloquence and sarcasm aside, his attitude is clearly defeatist. He objects a lot but accepts things for what they are anyway. Also, there's nothing exemplary about his personality. He is strangely detached towards his affectionate family, drinks like a fish and oozes dreamy philosophy to every willing ear.
During an overnight train journey to Delhi to collect the award, accompanied by curious filmmaker Mohan (Nakul Vaid, adequately efficient in a brief part), Joglekar talks about this 'haunting' chapter of
Janaza
. In what looks like pre-Independence India (with decadent zamindars and kotha culture), Joglekar (Satish in the novel), discovers a hysterical Lajwanti (Rekha), a courtesan by profession, crying next to a dried-out tree.
Lajwanti had been brutally gang-raped the previous night by her keeper and his cronies. Joglekar brings her home where his family (now Satish's family) nurses her back to normalcy. While nothing relevant happens in the plot -- fact or fiction -- there is no dearth of abrupt sequences. Finally, Lajwanti is back in Hyderabad and oddly enough chooses to set up yet another brothel.
Cut to the present. Joglekar accepts his award and starts work on the next book,
Bazaar
. He takes a flight back home. But instead of heading to his family, he knocks on Lajwanti's door.
What happens next could easily qualify as a lengthy definition of 'bizarre'. You can't help but blow a raspberry at this super-pseudo Joglekar. For all his philosophical
gyaan
on life and writing, the man's a bloody lust-driven loser.
Yatra
doesn't work on any count. The narrative is painfully slow. 128 seconds are spent capturing Ghose's obsession with a solitary leafless tree against the orange-hued sky, with birds in motion.
Then there is a weird dream sequence to convey the warped working of Joglekar's mind: a mobile phone recording of a couple making out, his injured son in the middle of riots hounded by cameras for soundbytes and his daughter throwing the F-word at her call-centre chief. The observation is realistic but the execution appears sensationalised.
Generally when the protagonist of a plot is a writer, one expects a mix of imagination and humour. Sadly, the dialogue even if well articulated is dawdling, pretentious and pedantic.
Ghose's excessive symbolism looks lovely but feels archaic. A bare tree stands alone, hungry crows cawing mid-air, a faint
dupatta
flies off. A train runs over a bridge. Lights go out. Thundering, lightening and pouring rain. Nevertheless, fantastic cinematography by Ghose, and especially noteworthy are the panoramic shots of Hyderabad from vantage points.
Another plus is Khayyam's music. The classically rich khayals and thumris are well placed and beautifully rendered by Shuvra Guha.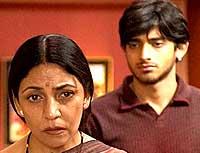 Playing a doting, worrying wife doesn't require much effort for an actress of Deepti Naval's calibre. She expectedly gives the role dignity and conviction.
Shockingly enough, Nana Patekar and Rekha fail to impress. Nana delivers a mediocre, uninspired performance. Sure, he is charismatic in his own trademark way. But the way he plays Joglekar, tittering after every sentence is quite silly. It appears as though he were questioning his own ability, and our faith in his.
Despite all the massive kundan jewellery, zardozi costumes and heavy make up, Rekha cannot possibly carry off a young nymphet act anymore. More so, when the camera is hell bent on securing ruthless close ups of the original Umrao Jaan. Her acting, mostly screaming and sighing, is quite loud and phoney.
Yatra
is an unfortunate hattrick for the legend after bloopers like
Bachke Rehna Re Baba
and
Kudiyon Ka Hai Zamaana
.
If your idea of art-house creativity is a sluggish storyline with indistinct pauses and an inevitable anticlimax,
Yatra
might interest you. Otherwise, give it a miss.
Rediff Rating: