Mammootty's Rajamanikyam remains one of the biggest grossers in the history of Malayalam cinema. And the man directing the film was Anwar Rasheed.
Now, Anwar is ready with his next venture Chotta Mumbai, with Mohanlal as the hero, easily one of the most awaited films this Vishu. The film, he says, "is a full-fledged entertainer which begins during a new year Kochi carnival and ends during the next year's carnival."
In an exclusive interview, Anwar Rasheed talks to Vijay on both his films and more. Excerpts:
Chotta Mumbai is perhaps one of the most eagerly expected films of the year. What is it all about?
It's about a group of youngsters who live around Fort Kochi, spending their earnings on inane things, without any definite aim in life. Their leader is called Vasco Da Gama, whom they nickname 'Thala', a shortened version for 'Thalavan' or leader. His parents named him after the Portuguese explorer as they thought he would become someone great, like his more famous namesake. But their hopes were in vain.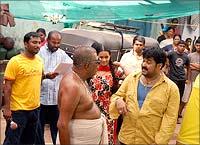 Vasco learns a little bit of wrestling from his father, an ex-wrestler himself, but now uses his skills in getting into feuds with others. Of course, the gang-members are no big criminals and are carefree youngsters. They do stuff like selling tickets in black, small-time smuggling or even going around as tourist guides for a living -- but they make it a point to spend all the money on trifling things.
We have seen stories based in Kochi earlier too. How different is Chotta Mumbai on that front?
I feel that in most such films, the grey shade is in focus. In Chotta Mumbai, you see it all in a lighter vein. I have lots of friends from here and was always amused by the kind of life they lived. They lived in modest surroundings, but always dressed hip and made it a point to live life to the fullest. In the film, there are certain aspects which make the slum-like settings where Vasco lives, similar to those in Mumbai and hence the film's name. Even in real life, there are certain areas in Kochi which are nicknamed 'Saudi' or 'Pakistan.'
Talking about your life in films, you had gone to assist Ranjith in Rajamanikyam and eventually became the film's director.
I had joined the crew as an associate director and when Ranjith decided to back out due to personal reasons, I was offered to step in. In an hour, I became an independent director. When I look back now, I feel it all happened like a dream.
Rajamanikyam was mainly known for its comic scenes. You will be expected to live up to huge expectations this time around.
Though I don't deny the fact that Rajamanikyam went on to become such a whopper thanks to the peculiar slang used by the hero, the film dealt with a serious theme. The slang is perhaps funny to a certain level and it could at best be called a family entertainer.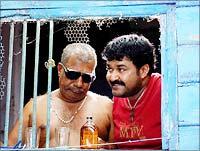 Kochi is also known for its use of a different kind of slang. Will the characters in Chotta Mumbai speak in that style?
No. I was clear about this aspect when we started discussing this project. Of course, I don't want to be labeled as someone who repeats the same formula in every film. Even otherwise, though the Thiruvananthapuram slang that was used in Rajamanikyam was well known to all after the mimicry programmes and TV shows on those lines, the way Kochiites speak is almost alien to the rest of the state. There is this risk of finding acceptance for such a style from them. Chotta Mumbai is a fun film and has some really humorous situations in it. Certain incidents in the story can get the audience in splits, and the film is a wholesome entertainer.     
The main competition for Chotta Mumbai is the Mammootty starrer Big B, which has been directed by your friend Amal Neerad.
(Laughs) We were batchmates at the Maharajas College and are really close friends. In fact this morning we had an old students' meet there. I sincerely hope that both of us are blessed with success.