R
ajnesh Domalpalli
recently won the Bear at the Berlin Film Festival for the Best Debut Feature Film,
Vanaja
. For this engineer turned filmmaker, life has been hectic as his maiden venture has been and continues to travel to festivals in different parts of the world ever since it premiered in Toronto. It has been shown at festivals in various regions of the US (like New York, California, Atlanta, Arizona, Oklahoma to name a few), Stockholm (Sweden), Norway, Seoul (South Korea), Auckland and Wellington (New Zealand), Durban (South Africa), and Cairo (Egypt) besides the International Film Festival Goa, and Kerala.
Vanaja, a Telugu film, was judged the Best Narrative Feature at the IAAC Film Festival, New York, last year and had a special mention at the Hamptons International Film Festival, New York State, last year. An interesting aspect about Vanaja is the way non-actors were chosen and made to act. As a filmmaker, Rajnesh wants to tread the path of art cinema.
Radhika Rajamani gets him to reveal more.
You have received the Bear at the Berlin Film Festival. How does it feel to have won a prestigious international award especially when there is so much competition around?
I did not expect to win it. I had seen some of the other first features and there were several which were expressionistic and strong, especially those from Eastern Europe. When they announced my film, it took me by surprise.
After the initial moments, how did you feel?
I grabbed Mamatha (the main lead) by her hand and went up. Normally, the producer and director are supposed to go but I was so happy to have Mamatha there because I think she charmed the crowd. Facing the Berlinale Palast (where the main competition and the award ceremony are held) is an experience. One has to experience it to know what it feels like.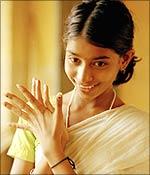 How was Vanaja chosen for the Berlin Festival?
The Berlin Festival people had heard about it. There are four major festivals -- Cannes, Venice, Berlin and Toronto. So if you premiere in one festival, the others get to hear of it. We were lucky that Berlin asked us as they had heard about it from Toronto.
Do you think this award has added an element of responsibility as a filmmaker?
I wouldn't say responsibility because responsibility is something I have always had. If I didn't have it, I wouldn't have made this film. Vanaja is a look at the class structure in our society, fading institutions of folk art, old buildings that are collapsing -- things which we should be protecting as that is a part of our heritage. Most importantly, it makes a point about people whom you normally would not expect to act being able to act to a level that meets international standards.
That was a challenge.
It was. It also goes against the norm that you need to have big stars to make successful films. I don't believe in that. I think experience in life is what really counts and you can't have a person with shampooed hair and manicured nails playing the part of a village girl. What qualifies you to play that part is possibly having carried bricks on your head for years; maybe having lost a husband and children. That qualifies you much better than having gone to an acting school, having acted in so many films or won so many awards.
How did you weave in all the elements you spoke of?
Some of them you can do overtly, some you can't. If you see Radhamma, the way she sits, stands, moves, grunts and groans is the way people from the village talk and behave which means you would immediately recognise a person who served breakfast at home and you see that person on screen. That makes a point and I don't have to say anything more.
If you take folk arts -- the film opens with burrakatha. The scene is cut a trifle longer than the way one would traditionally cut it because I am emphasising something -- I have tried to give a certain amount of space to this folk art and I need an opportunity to talk about it. If you talk to these people doing burrakatha, you will see there is a huge difference in the way the older generation performs the art vis-à-vis the way the way the younger generation performs it. The older generation uses certain literary terms. Most of the children of these old artistes have taken up other jobs and they do this from whatever little bit they have learnt from their fathers. This has happened because of the advent of television. Burrakatha is a long-format art form. If it begins in the evening, it will go on till early morning depending upon the crowd.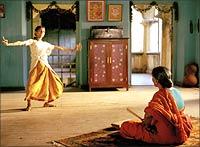 It's to do with the changing context of the times as well and there is no patronage to these art forms...
That's the point we are making here. For example, I could not get the burrakatha artistes I wanted for the shoot. So I called another troupe from Vizag. They were a young group of people who had modernised the art. If you had watched the young woman perform, you would have seen she had taken elements of film dance. It's different from the way the old perform. The point we are making is that if we don't protect these folk arts, they are on their way out.
I have used Carnatic music as the background score -- in particular, the violin played by B S Narayanan, a student of T N  Krishnan whom I admire a lot. He has composed some good things, like the Jayadeva ashtapadi, Sa virahe, in raag Bihag.
I have also used janapada geetalu, folk songs we rarely hear. We travelled to towns and villages and recorded these songs. Here, too, the younger generation has taken to other jobs and are not being able to make a living out of the art form. There is a paradigm shift in people's attitude. I don't think Berlin has put a responsibility on my shoulders. I think I always had it.
You are a connoisseur of classical music...
Yes. I have learnt the veena at IIT (where he studied) from the wife of one of my professors. Then when I went abroad, I studied vocal.
You chose to make Vanaja in Telugu. Is it because you are familiar with the social-cultural ethos of Andhra Pradesh?
Yes, I grew up in rural towns because my father was a dam construction engineer. So we were at places like Nagarjunasagar, Srisailam, Nizamabad and Manjeera. I used to spend a lot of my childhood talking to the household staff, going out with them, being taken care of by them. I have always been a good listener even though it is contrary to what I am doing now.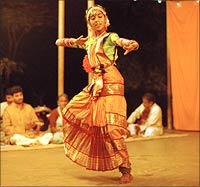 How was the seed sown for this particular film?
It started with the film Sophie's Choice before I joined Columbia University. I had no background to join Columbia. I was concerned that they would not take me. So I took a huge number of preparatory courses in things ranging from art history to design to acting to voice study. In doing all that, I had prepared enough.
One of the movies in that period I watched was Sophie's Choice. And in that there was a moment of separation between the mother and child. I decided to use that moment as a kind of starting point. It was supposed to be a story of mother-child separation when it started out. But as it developed, it began to meander. Inevitably, you put in your own personal experience -- things that make up your life history, not that I have seen the rape of the girl but issues you hear about. Those things began to filter into the writing. So in the end, it ended in a completely different place.
How did you select the cast and the locales?
It took about five months to find Mamatha and Bhavani -- the two leads. We found them in a school in Hyderabad. We used to put flyers in newspapers, visit gyms and give flyers, go to places and distribute pamphlets, go to schools...
The old maid actually carried bricks on her head. The person who plays Vanaja's father, was a municipal sweeper and also worked as a security guard for a while.
How did you change tracks from being in IIT-Mumbai to doing film studies at Columbia?
Well, if you ask me, I would say you never really change tracks in a big way because at a superficial level, I am still using my engineering skills. Most of filmmaking today is digital. I am working with computers in the way I have worked before. But at the deeper level, you are looking at the roots of just being creative. That's what IIT teaches anyway -- to solve problems.
The second issue is in terms of knowledge. IIT has given you technical knowledge in terms of computer design, electrical engineering, chemistry, physics and so on. That remains with you to a certain extent. Even though I may not be using that knowledge I acquired at IIT, I feel I am contributing so much more to society and to myself and to do the things I always wanted to do. The decision to have made this change is probably the best decision I have made.
Are you planning a release in India?
Maybe not in India because we cannot find theatres that will screen this film. We approached several theatres but they asked us about the stars in the film. That's unfortunate.