Pankaj Kapoor is one of the most talented in the Hindi film industry. Be it humour or serious roles, he has carried them all well.
This Friday, he will be back in the garb of Pundit Chaturvedi in his latest film Dharm.
In a free wheeling conversation, he talks to Narendran Singh about his next film, his son Shahid, the delay behind Vishal Bharadwaj's excellently-reviewed Blue Umbrella and what went wrong with the Karamchand's comeback on television.
Dharm was part of 'cinema of the world section' at the recent Cannes Film Festival. How was the feedback?
Neither my wife (Supriya Pathak) nor me were there at Cannes as we both were busy because of our daughter's exams. At midnight, Sheetal and Bhavna Talwar who are the producer and director of this film called me on my phone and they were very emotional. Most of the foreigners who saw the film were terrified, some of them wept. On a more universal level, they related with the film. It was a moment of happiness for all of us.
So you have this conviction that the film will do well.
Many factors are involved in the failure and success of a film -- the way it is released, where it is released and how it was marketed -- all are very important. 
Dharm is a very important film in my career. I am saying this not only in the capacity of an actor but also as a human being. The things that have been said through this film are very important and relevant if we take into consideration the present circumstances, which surround this country.
It's important that people see and think about this film. My expectations are from the young generation. I agree that for them entertainment in a film is more about songs, dance and fashion and that's perfectly okay. But when you listen to them, you realise that their thinking and mindset is way ahead compared to my generation. It's important for the people of this young generation to see this film because the future of this country and the world is in their hands.   
This film also features your wife opposite you. Was she in awe of you while you performed?
Why should she be in awe of anything? She knows that I work in a professional manner. The good part about working together with your partner is that there are certain areas where only she or he understands -- your traumas and insecurities and vice versa. Definitely, a comfort level between the two exists.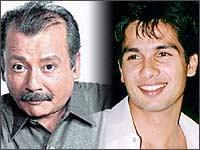 Blue Umbrella is such a beautiful film but it's not getting any distributors. Why is that?
I don't know whether it's not getting distributors or whether it's a commercial decision on the part of the producer to not release the film. Since the start of my film career, I decided to do my work honestly. After that, I forget the rest because nothing is in my control, be it the distribution or the release of a film. These things are taken care by people from other departments.
What reasons were given to you by the producer for not releasing the film?
I heard that because of some commercial reasons -- that probably relates to the distribution of this film by some international company -- the release of the film has been put on hold. But let me repeat, I have only heard about this. No one from the producer's side has bothered to tell me the exact reason for the delay. It's really sad.
What went wrong with Karamchand?
Tell me what did not go wrong with Karamchand? I am sorry but please tell me the novelty element of that show? What new stories were there in the show? Did it really add to the flavour of the main character? In the context of present era, what level of presentation are we talking about?
Pankaj Parashar was behind my life for one and half years. I gave my consent to be a part of new Karamchand only because I wanted to experiment with this character who has now aged and the new scenarios, which have developed after 20 years. The commitments that were made to me timewise were never fulfilled. There was no strength in the stories selected. I really felt sad about everything.
Naseeruddin Shah, Om Puri and you are considered to be the triumvirate of an era of the film industry. But later, Naseer and Om Puri turned 'commercial'. On the contrary, you never deviated from your path. Was this a conscious decision?
I don't want to comment on any one. Everybody has his or her own life. People want to lead life in different ways. They have their own reasons to do so. I might have my own set of weaknesses. I thought that I might not be able to lead 'this' way of life; the 'other' way might be suitable for me. Everybody has got the right to lead their life their own way.
On a scale of 10, where will you rate your son, Shahid?
As a potential, I would rate him nine out of 10. Let me remind you again it's on a potential scale. Shahid has still not been given the opportunity to exploit his talent. He is young and people from the film industry are only busy exploiting his youth. His dancing skills are being exploited. I think he should be given some powerful character or some dramatic sequences so that they can explore his other areas as well. Then only we will get to see his real talent.
There is also news that you are doing a film with him to be directed by Rajkumar Santoshi.
I can't comment anything at this stage. It's too early. I don't think it would be right to say anything unless and until the script and other things are not finalised.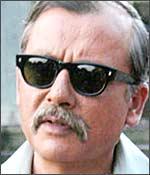 You have just finished a film called Good Sharma from the producers of Dharm.
The shooting part of Good Sharma is over and the film is at the edit table. It's based on a real life character who had gone to the US to become a lawyer but because of certain reasons was unable to clear the bar association. He became a taxi driver later on. After 25 years when he returns to India, he realises that there are no schools in his hometown. Dilip Tahil has played the central character and I play the role of Hanuman who is his friend.
How do you rate yourself as an actor on a scale of 10?
I wont be able to rate myself because I am still in the process of learning.
You are being modest.
I am not being modest, I am being honest. I am not saying that I am a bad actor but I am a fairly good actor. It's a long journey. I may be mid way or something. I have so much to explore.