Growing up isn't always easy, especially for the lonely and friendless brand of kids.

Fed on a staple diet of fairy tales and mythological stories, they tend to be exceptionally imaginative and secretly wish for Peter Pan or Lord Krishna to pay them a miraculous visit.

My Friend Ganesha skims past the surface of this premise. What a shame considering this part animation-part live action actually had tremendous potential to entertain.

Instead, it takes a humdrum route about an eight-year old bespectacled boy, Ashu (Ehsaas Channa) with the usual set of issues -- indifferent, workaholic parents (Kiran Janjani, Sheetal Shah), fat classroom bullies and no mates to play.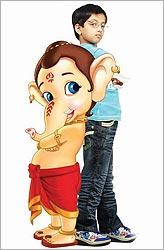 The only silver lining in Ashu's dark cloud is his raucous, hyper-animated maid, Gangutai (Upasana Singh). And boy, does she talk. Gangutai is like 35 TV channels barking at once. Migraine on the house? You bet!

Her spirited story-telling of Lord Ganesha's tryst with Mooshakraj (done in animation) impresses young Ashu a great deal. So much that he urges his folks to bring Ganpati's idol during this approaching Ganesh Chaturthi. At first they reply in negative, but after Mommy gets sacked and Daddy is suspended, they feel inclined to fulfill Ashu's wish.

Soon enough Ashu makes divine contact with the Lord (a younger Ganesha) himself, in a computer animated avatar. The two strike an instant bond of friendship and fun. While Ganesha comes to Ashu's rescue bailing him out of one trouble after another, Ashu shows his gratitude by teaching English to the modak-loving deity.

And so on and so forth the adventures, against Sameer Phaterpekar's perky tunes follow.

It's a fairly formulaic idea with the USP being a computer generated God, but even then director Rajiv S Ruia botches it up big time.

The production values are shoddy whereas the graphics – (an eyelash fluttering Ganesha, anyone?) are average. It's not like one was expecting The Lion King anyway. But this doesn't even scale the heights of the locally-made Hanuman, which was an undoubtedly endearing and educating experience.

What's really sad is not the predictable nature of the events but the sloppy manner in which the movie is put together. Just because it's a children's film doesn't mean it isn't entitled to be smart. The parents are presented as cold-hearted schmucks. And what's with those wannabe phirang accents sported by the school principal and a random banker?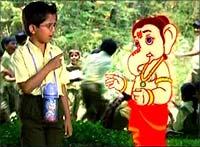 Thank God Ehsaas (also played Shah Rukh Khan's violin-loving son in Kabhi Alvida Naa Kehna) is suitably sweet and spontaneous. In fact, every time the elders around him act (read ham), look closely at Ehsaas' expressions. She (yeah it's a girl passed off as a boy) looks appalled and bewildered.

Right from the main non-star cast to the supporting extras, barring Ehsaas, each and every actor delivers an insipid, synthetic, awful performance. Even school-level rehearsals must display a much more professional level of acting than this.

Look-wise he's pretty adorable but Lord Ganesha's voice over sounds mighty rehearsed. The kid behind the scene is obviously having a hard time speaking in chaste Hindi.

At the end of the day, films like My Friend Ganesha just end up making one's blood boil. They aren't cute. They are certainly not clever. But kids are. And they deserve better.

Rediff Rating: