Karthi, the youngest son of actor Shivakumar and brother of Tamil heartthrob Surya, is the new entrant into the world of Tamil cinema. His first film -- Ameer's Paruthiveeran -- is slated for release on January 25.
Karthi has already signed his second film, to be directed by one of the hottest Tamil directors today -- Selvaraghavan. Sandhya stars opposite him.
Shobha Warrier met up a nervous Karthi, days before the release of his first film. Excerpts from an interview:
Why did it take it so long for you to plunge into filmdom though you hail from a family of film stars?
I always knew I wanted to be in films but I did not know exactly what I wanted to do. I loved movies and watched a lot of them. But my father insisted that I get a good education before I joined the film industry.
After I did my graduation in Mechanical Engineering, I got a scholarship to go to the US to do my Masters. So I did that. I also worked there for a while. After my Masters, I did a course in Film Appreciation.
When I returned, I met Mani Sir (Mani Ratnam). He had called me to act in Aayutha Ezhuthu -- the role that Siddharth did. He wanted someone who looked like Surya's younger brother. But he was shocked to see me. I was huge, weighing 90 kilos. One look at me, and Mani Sir told me that I look like Surya's elder brother! So I asked him if I could assist him in direction. He said yes. So I was his last assistant for Aayutha Ezhuthu and Yuva.
Then, I got this opportunity to act. On hearing this, Mani Sir told me not to say no to good opportunities. My father told me that one can always direct films but one will not get a chance to act once you grow older.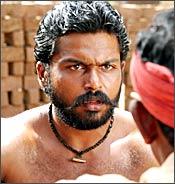 So you preferred direction to acting...
Yes. Acting just happened.
Do you feel a film is a director's product?
Of course. Like they say, the director is the captain of the ship. He creates the film. Actors are just tools in his hands. But I wonder whether I have the ability and experience to make a film now. I have to grow a lot. After watching a master like Mani Ratnam at work, I know how much I have to grow to make a film. 
I do not want to make a film that others have already made. I want my stamp on it. So I have to learn a lot.
How did Paruthiveeran happen?
I know Ameer Sir for a long time. He had done Mounam Pesiyadhe with my brother and visits our home often. One day, he offered me this film, and also spoke to my father about it.
You are brought up in a city and the first character you have played is a villager. Were you not scared to do a character that is alien to you?
I had faith in my director. I know him and have seen his films. I also know that he brings out the best from the artists. You have to only see how my brother was in Mounam Pasiyadhe and Jeeva in Raam. I just followed what he said.
He asked me to grow my hair and beard, and reduce my weight. Then, I started working out. I am not a sportsperson. I used to spend all my time in front of a computer.
Every week, I would ask Ameer Sir whether he was happy with my progress. But he would ask me to reduce more, and increase my biceps! Everyday I trained for six hours; and it went on for weeks. But I enjoyed it.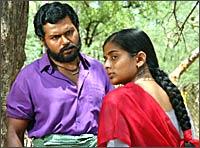 All this was for the physical appearance of the character. What did you do to understand the character?
I watched the films made by Bharatiraja, most of which were set in Madurai. I must have watched 16 Vayathinile (starring Kamal Haasan, Rajnikant and Sridevi) at least 50 times a week. Once the shooting started, Ameer Sir guided me. He acts very well, and he would act for me. But it was tough reproducing what he did.
How difficult was the first shot?
It was easy. I had to ride a bicycle!
But the first scene was difficult because I had to be the character. When I delivered the dialogue, Ameer would say: This is not the way Paruthiveeran would talk. This is the way Karthi talks.'
It took me a while to understand Paruthiveeran. Initially, I was very nervous and could not tune myself to 'action' and 'cut'.
Paruthiveeran talks sarcastically and thanks to my education, I couldn't bring myself to shout. I thought it was rude to shout but the character shouts all the time!
I threw away my jeans and moved around in a lungi and shirt even at home. I had seen how my brother prepared himself when he was acting in Nanda, Kaakha Kaakha and Pitamahan. He became the character even at home. That is what I was told from day one -- Forget who you are. You are Paruthiveeran.
As you wait for the film to hit the theatres on January 25. Are you excited and nervous?
Both. I am confident because I have worked hard. But I also don't know how people will react to me and the film.
You got to assist Mani Ratnam in your first film. You debuted as a hero in a film made by Ameer. Do you feel lucky to have got these breaks without struggle?
Of course I am lucky. I threw my MS and job in the US to be in films. I took the calculated risk because my family was in films. So I knew I would get a chance. But remember, I will get only the entry; the rest is up to me.
Karthi's photograph: Sreeram Selvaraj