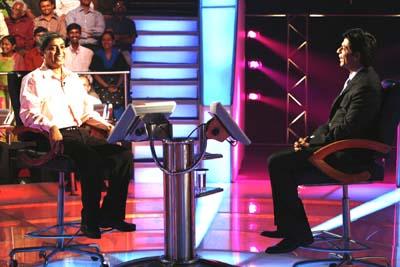 When Shah Rukh Khan's Kaun Banega Crorepati goes on air on January 22, Prasenjit Sarkar will become part of Indian television history.
The 39-year-old inspector with Central Excise was in the hot seat before Amitabh Bachchan when KBC went off air in 2005, having earned Rs 80,000 on the show till then, and he will return to the hot seat before Khan come Monday.
"I have been lucky to be a part of two consecutive segments, including the changeover, what with the wait of a year for the show to begin again. It's unique and by God's grace happened to me. I feel I am the luckiest person in the country and may be the whole world."
The first to face questions from both the superstar-hosts of KBC, Sarkar is diplomacy personified when asked for his opinion of Bachchan vs Khan. "I can tell you my experiences with both. I can't compare them,"
Amitabh Bachchan left a lasting impression on him. "His personality is as tall as him. His baritone, impeccable dress and whole presence influence a man to the extremes. You seem to get overwhelmed, overpowered. To tell you frankly, the first time I met him I felt I was standing in front of Lord Almighty. Slowly but surely he eased me into the show. He has that capacity to ease contestants into the game."
About King Khan, Sarkar says, "I was touched by his enthusiasm, energy and he seemed to be the most friendliest person on earth. My wife was looking forward to meeting the new celebrity. My 11-year-old son is a diehard fan of Shah Rukh."
For the rest, there is nothing much coming out of him vis-à-vis the show.
How much money does he make on the show? "To know that you have to watch the show on the 22nd."
What about the show's look and feel? "For that you will have to watch the show on the 22nd. Your readers must wait for a few days to find out from themselves."
To rewind a bit, for Sarkar, getting on the show was a dream come true. "I have been trying to get into the show from KBC1 itself, when it started about seven years back. I kept trying. I kept calling from my BSNL landline on every episode, that's how I got a chance. But my luck brought me only in the 61st episode."
Although he was disappointed when the show went off air following Bachchan's indisposition, Sarkar says he knew it would be back, along with him. "Star TV had given me written confirmation that I will be the first person on the hot seat when the program starts again."
This time round, he adds, "I was less tense. When I went to KBC2 the first time I was not sure if I would get a chance to get to the hot seat or not, whether I will be the fastest finger but this time I had no such tension."
Finally, there is the question of what he will do with the prize money. "I am going to save part of it for my son's higher education and spend a bit of it for charity. There is a list of other things to do but will plan it later," he signs off.
Interview: Priyanka Jain