The towering performance of Guru at the North American box-office must have added to the excitement of the Abhishek Bachchan-Aishwarya Rai engagement. Suddenly, Abhishek became a superstar in the US and the United Kingdom without having to share the success with his father or co-stars like Shah Rukh Khan and Hrithik Roshan.
Mani Ratnam's Guru grabbed $840,000 in three days in North America, and has reportedly become a hit in the UK too. It has given both Abhishek and Aishwarya their biggest non-multi starrer hit.
Guru grossed about $35,000 more than SRK's Don took in North America. That, in spite of the fact that Don opened in a record 113 theatres while Guru was shown in only 70. But Guru took a few thousands less than the Aamir Khan hit Fanaa.
Abhishek, who starred in two other big hits last year, had to share the credit with father Amitabh and Shah Rukh in Kabhi Alvida Naa Kehna ($1.3 million opening weekend) and with Hrithik in Dhoom 2 ($980,000).
The arrival of the first hit of the season was also aided by the appearance of the film's lead pair, along with Mani Ratnam and music composer A R Rahman in New York and Toronto. The weekend gross could have been 3 percent higher but for the complimentary tickets given at two venues in New York.
The reactions in Manhattan theatres could be echoing elsewhere. Many people were heard saying that they were very impressed by Abhishek. "In the climax when he confronts the court, he sounds and acts like his father," a middle-aged man said.
The climactic episode in which Abhishek's character defends himself, with his wife (Aishwarya) sitting by his side moved many. "My eyes welled up, and I am sure even my husband had tears in his eyes," said a young woman. "Rarely does one see a woman given that much of importance in a climatic scene in a Hindi film. Sure, he married her for dowry which he invested in his business but the court scene nicely summed up what she had meant to him over the decades -- and that he knew it in his heart and soul."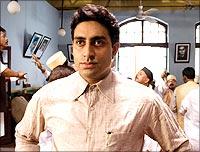 Abhishek's work in Yuva, his first film with Mani Ratnam, was well-appreciated and got him awards but it was not a success.
Many people in New York thought Guru is Abhishek's career-defining film.
With strong word of mouth, and a few mainstream publications -- especially in New York Post -- giving the film good reviews (Post gave it three stars out of four), Guru could have strong legs. It is the first big hit for distributor Adlabs, a new player in North America. Its Jaan-E-Mann, Vivah and Umrao Jaan hardly registered at the box-office. Now, they have a certified hit.
Exhibitors believe Guru could end its run with over $2 million. It could climb higher if the weekend in Chicago, New York and Toronto isn't freezing.
In discussing its box-official potential Mani Ratnam had told rediff.com that the film's subject -- of an ordinary man achieving extraordinary success and overcoming personal and institutional roadblocks -- could resonate with anyone, especially Indians abroad. "It is kind the story that appeals especially to the new generation of Indians," he said. "And it is also very entertaining."