The news of Abhishek Bachchan and Aishwarya Rai's engagement has done well for Guru. After a slow opening, it has started picking up at the box office.
Guru saw a 50-60% opening on January 12, the first day of its release, but did increasingly better after the news broke on Sunday.
Guru is a crucial film for Abhishek Bachchan as it is being counted as his first solo success, both critically and commercially.
"Guru is on its way to become a hit," said Taran Adarsh, well known film trade analyst.
Interestingly, only 3 months ago Abhiwarya faced a disastrous flop with J P Dutta's Umrao Jaan.
The difference is in the reviews. While Dutta's film was savaged by critics, Mani Ratnam's film is garnering praise. "Guru so far has been appreciated well, and is a good film too," added Adarsh. Critics have unanimously praised Abhishek and Aishwarya's histrionics, and the word of mouth publicity is making a huge difference to the film.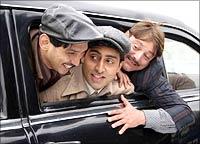 "The film so far has done well in cities and multiplexes," declared trade analyst Komal Nahta, "and has done reasonably okay business."
Nahta feels the engagement news hasn't had an impact on the box office collections. "Not at all. Everybody knew that they were seeing each other. So, how would that help the film? It is like the story of boy crying about the wolf. Everyone knew that this news would come true. and finally when it has come true nobody is surprised about it. So it has no effect at the box office."
He further said the film's collections have started dropping again.
Unlike other Hindi films, an integral part of Guru's success comes from South India, largely because of Mani Ratnam's great fan following beyond the Vindhyas.
"The film has done well in South India," concluded Vinod Mirani. "Abhishek's performance has been appreciated and he is maturing as an actor day by day."