Awards could be in the stars for Abhishek Bachchan, for his work in Mani Ratnam's Guru. But for now, with Aishwarya Rai's statement that Guru is "an out and out Abhishek film," and that "he has given his best performance in it," he won't have to worry about nominations and awards for a while.
Ash, who accompanied Abhishekh, director Mani Ratnam and composer AR Rahman to promote the film in Toronto and New York, would not stop talking about Abhishek in her interviews in New York on Friday.
Before anyone could ask her why she took up the film, given that Abhishek looms across every frame of it, she said she felt her role was well-defined too. "And then I had this wonderful opportunity to work with Mani Ratnam," she continued, saying that she still cherishes working with him 10 years ago in the Tamil film, Iruvar, in which she made her film debut.
Her bycycle accident featured prominently during the press conference, especially with A R Rahman playfully reminding her of the song Mai chali mai chali, that he had composed for the scene in which she runs away from home on a bicycle. Following the accident, the scene was changed, and she was featured in another song, Barso re.
"They still tease me about not learning to ride a bicycle," Ash said, adding that with hindsight, she was glad the accident happened, because she loved the way Barso re was filmed.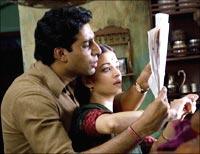 "He is the man who introduced me to films, who gave me a break," Rahman said about Mani Ratnam. "Every time I work with him, I have to reinvent myself."
Many of the song situations in the film are set in the 1950s, Rahman added. "But Mani-sir wanted me to find a balance between the music of that era and contemporary music, so that the music in the film will not sound jarring."
Abhishek came 15 minutes after the press conference had started, walking in with a broad smile and quizzically asking what time zone he was in. He did not apologise for his late coming, but when Ash walked in ten minutes after his own tardy entry, he teased: "You staged your entrance!"
Abhishek's work in Guru got high marks from The New York Post critic, who gave the film three stars out of four. A reporter asked Abhishek if he was expecting another top award.
In the Post, high profile critic Lou Lumenick called the movie 'often absorbing.' 'Guru is sort of a Bollywood Citizen Kane, a decades-spanning drama with a compelling Abhishek Bachchan as a ruthless Indian business tycoon who refuses to take no for an answer,' he wrote.
The critic felt the film was a touch too long, and was less successful in portraying Guru's marriage to the long-suffering Sujatha (Aishwarya Rai), whose dowry provided seed money for his business pursuits.
While calling Rai 'gorgeous,' Lumenick felt her 'several lavish musical numbers, while entertaining, seem to belong in another movie -- and, with several subplots, help push the running time of Guru to nearly three hours.'
Clearly, the critic was convinced by Abhishek's performance, and that cued a reporter to ask if the actor expected a slew of awards for his performance. "Acting is not about awards," he said, adding that the dream is about pushing the envelope, giving a convincing performance, and finding out the best way to entertain the audiences.
"Awards are great confidence builders. But often, an award is given to a person in a film. However, the entire team is responsible for a film's success."
By way of illustration, he spoke of attending a screening of Guru in Mumbai a few days ago with Mani Ratnam and everyone else who had worked on it -- but there was no sign of Rahman.
"When I asked Mani, he told me Rahman was fine-tuning the score," he said, adding that this kind of attitude inspires him. "Even at the last minute, he was improving things."
The actor recalled that when he had played the part of Lallan Singh in Ratnam's earlier offering Yuva, he was not at all sure whether he could do justice to the part. When the filmmaker narrated the story of Guru to him, Abhishek said he felt moments of anxiety. But there was this "confidence that he would take care of me," the star added.
Reporters were curious about the scene where he shows his swollen belly to Ash. How did he gain weight for the film, he was asked.
"Mani has a mantra, make it real," Abhishek said, adding that since the film was chronologically shot, he had time to put on weight. "It gave me the license," he said chuckling.
"Actors usually don't get to eat what they like." But after binging on ice cream and chocolates for several days in order to put on weight, eating became suddenly boring, he recalled. "Soon, I was waiting to shed the weight," he added.
As for working with Ash once again, he said he was impressed that within just one year, she has been able to "essay different roles and show her talent fully."
What does he enjoy most in his films? "Every actor loves to push the envelope, push themselves personally," he said. "But the opportunity to take home good memories is also very important. If I did not learn anything from a film, I won't remember it however successful it is."
As for some of the films he cherished working in not doing well at the box office, he pointed out that "commercial success of any film is not in our hands."
He was surprised when a reporter asked him what kind of success he expects Guru to be. "If we knew how each film is going to be at the box office, all of us would be billionaires," he laughed.
He was still chuckling when he asked Mani Ratnam to hasten completing Lajjo, the Aamir Khan-starrer, and start a new film. "Since I am not in Lajjo, Mani, there is a hint for you," he added.
The Guru junket was reportedly organised so quickly that the film's distributors in Toronto and New York had very little time to organise the press meet and the premieres. Madhavan and Mithun Chakraborty, who were to attend the gala events, did not make it; word is they had problems getting visas.
Distributor and producer Bobby Bedi, who attended the junket, is a soft-spoken person, like Mani Ratnam. His take on films such as Guru is interesting. He does not hesitate to call them crossover films, and says he has hopes that some of these films will be discovered by mainstream audiences in a big way one of these days. In recent years, some of the small films that have done well at the box office had strong ethnic roots, he said, citing films such as My Big Fat Greek Wedding and Monsoon Wedding.
"The tastefully done song and dance films from India, like the ones Mani Ratnam makes, also have crossover potential," he said. No surprise, therefore, that he is producing Mani Ratnam's next film Lajjo, and has announced an even bigger film with him, The Mahabharata.
When a reporter complimented him for having the courage to produce offbeat films such as Maqbool and The Rising: The Legend of Mangal Pandey, Bedi quipped. "But at times, I also pay for taking the risk."
Later in the day, Ash stoutly defended the film's music while talking with Desi MTV. She said, having listened to A R Rahman's music for over a decade, especially since her role in Mani Ratnam's Tamil film Iruvar which, too, had music by the same composer, she knew he was an uncommon composer.
His music is rooted in India, she said, but it had universal appeal. When she listens to a Rahman composition for the first time, she confessed, she knows there is something interesting about it. "But it takes some time to grow on you," she added. The compositions even sound better when someone like Mani Ratnam films them, she added.
Reporters asked Ash about growing old in the film; she said she had to thank the make-up artists. She knew she looked convincing playing the aged wife of the business tycoon, when director Mani Ratnam told her that she looks like her mother.
"Thank God he did not tell me that I look like my mother," quipped Abhishek, who also grows old in the film.
"But you look like your father in the last scenes of the film," said a journalist.
Ash also said that it is not worth making fuss whether a role is deglamorised or the actors wore any make up. The ultimate test for the artist is whether he or she did justice to a part and made it come alive, she said.
The inevitable question -- about whether the protagonist in the film was based on the rags to billions story of late industrialist Dhirubhai Ambani -- was tossed at Mani Ratnam yet one more time; the director answered it with characteristic calm. His film, he told the media, was inspired by many people but on the whole, it was a work of imagination.
"Like all period films, it has its roots in reality," he says. "The question should be whether what happens in this film is plausible or not. And I believe it is plausible. Otherwise, I would not have made it.
"It is important for a film of this kind to succeed that its characters should be portrayed realistically. Every character, even the minor characters, should be realistically drawn and yet at the same time, the film has to entertain. What was more important to me with Guru was to tell the story of India through the rise, fall and rise of one man, against the backgrounds of four decades starting in the 1950s when our values very different."
He has been thinking of the project for several years, he said. "But there were one or two other projects I had to complete first. And at a point over a year ago, the characters in Guru were fully formed in my mind and I was ready to go ahead with it."
Mani Ratnam says the younger generation today identifies with the title character in his film. "They are very rooted, and they like the new political climate," he said. "They feel they can conquer anything in this new India."
Asked what he liked most about working with A R Rahman, Mani Ratnam said "He instinctively understands what the director wants. He can feel how the song could be pictured. He does not sit down and say, We are going to come up with a hit song. His main concern is how the music can be made to serve the story and script."
Ash and Abhishek said they were in awe of Mani Ratnam and the way he creates the screen characters. "The title of this film is Guru but in real life he is my guru," Ash said of the director.
"He makes the women's characters strong in his films, though the subject could be dominated by men. And for that reason, Iruvar was a very special film for me. And so is Guru. The beauty of Mani Ratnam's films -- and I have seen practically every film he has made -- is that every character in them is finely etched."