Unrecognisable in stiff short hair, a western pant-shirt-overshirt ensemble, Seema Biswas looks nothing like audiences are used to seeing her.
She tells Sonia Chopra about her award-winning performance in Water and her continuing association with Deepa Mehta. Excerpts:

You won a Filmfare Debut Award ten years ago, in 1997...
I still remember when I got nominated, I was thrilled and excited. But my family members were very upset, as they could not see me receive the award on screen. I was an ordinary actress, so they didn't think it was important to show it on television (Laughs).

From a debut award to winning the prestigious Genie Award for Best Performance by an Actress in a Leading Role for Water.
That's a big honour for me. The Genie Awards are called the Canadian Oscars. When I got nominated, I was happy and surprised and that was it. It was when I was shooting in Chennai for a Tamil film, that Deepa called me and informed me that I had won. I was in the car and started crying hysterically. I kept telling her, 'you deserve the award more than me.' She said, 'Buddhu, have you acted in the film or have I?' That evening, Lisa Ray received the award on my behalf. 

How would you describe your role in Water?
I play a widow named Shakuntala. She's a person who prefers to control and hide her emotions; she doesn't believe in words but actions. Though she isn't very vocal about it; she hopes the next generation of widows doesn't have to go through what she has.

Water must already have been ridden in controversy when the film was offered to you?
Actually, Uma DaCunha called me up and said that Deepa was coming to Mumbai to cast for one of her films and wanted to meet me. I met Deepa not knowing which film she was casting for! When she said she's making Water again, I was pleasantly surprised. I admired her for making the film again. She explained the role; I also read the script. When I accepted the role, all she said was 'come full-heartedly, don't come half-heartedly.'

Did you know it was the same role that Shabana Azmi was to do? Did you call her up and have a talk about this?
I didn't know that when I accepted the role; but I got to know later. It's ok to give a call to somebody if you are friendly with that person, and can talk unofficially. Who knows, my call could have hurt her. But the main thing is I don't know her on a personal level, so I never thought of speaking to her about this.
Shabana Azmi: I hope Water wins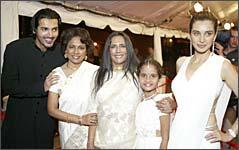 Did you visit the ashrams as part of your preparation for the role?
Yes, I did visit the widow ashrams in Vrindavan and Mathura. I spoke to many widows in Bengali. I didn't go there as an actress; but as a tourist. I met one family, in the ashram, where the mother, daughter and grand daughter were widows. The mother, I remember, was a very dark lady, with very bright teeth and eyes, dressed in a crisp white saree with a blue border. She was full of life, but the pain was evident on her face. As actors, we are used to observing expressions, and it's hard to hide from us. 
I spoke to an old lady there, and asked her if she would like to go back home, and she said no. She said she washed utensils and earned two rupees singing bhajans, but was happy living on her own hard-earned money. I saw their plight -- the place where they live is stinking; they wear the same dirty white sarees. They sing bhajans for hours - and their songs are haunting and disturbing.

Is it true that your mother Meera Biswas, an actress herself, is playing a part in Water?
Yes, she plays one of the widows in the film, and this is her first Hindi film. Deepa saw my mother's picture and said, 'please call her here anyhow. I want this kind of a face!' My mother has acted in several plays in Assam, but I was apprehensive about asking her to be a part of the film. I knew that would somehow add to my responsibility and I wondered what if she doesn't perform the way Deepa wants her to. Manoramaji encouraged me and assured me that they'd look after her. I have grown up seeing my mother on stage, and have inherited this talent from her.
Column: Water down the drain

How was the experience of working with Manorama who has made her comeback to films after 18 years?
I love Manoramaji's work. Truly, films are a director's medium. When using an experienced actor it really depends on the director whether they play on the actor's old image, or to explore a new angle to them. To Deepa's credit, you see Manoramaji like never before. She's a very intelligent and enthusiastic actress. Even if she's unwell, she's very dignified and doesn't show it.

Now that Water has travelled all over the world and is finally releasing in India, how does it feel?
I am very excited to see the reactions of the audience. People will realise there is nothing in the film that is objectionable. An actor is alive, only if they have an audience. I am waiting for the reactions to pour in. Der aaye, durust aaye.
Interview: Deepa Mehta, vindicated

What kind of roles make your wishlist?
Any role that is so challenging that it frightens me.
I want to do all kinds of roles. I would love to do a comedy. I was offered Bandit Queen after Shekhar Kapur saw me in a comedy play called Khubsoorat Bahu. I would love to play a 3 year old girl; I would want to play a eunuch. I would love to do roles like Nutan's in Bandini and Sarika's in Parzania. I am a completely mad actress, who cannot see beyond acting. I have given obsessive calls to Sanjay Leela Bhansali in the middle of the night, telling him I was not happy with a shot. And at that time I feel that if I don't do that shot the next day, I'll die.

How come the change in the hair?
Yes, I know my new haircut has changed my face completely. This haircut is for a Canadian film called Amal, where I play a lawyer. It is being directed by Richie Mehta, a Toronto-based filmmaker, and he has nothing to do with Deepa Mehta (laughs).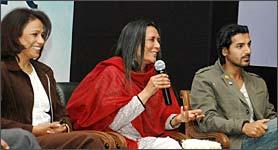 What else are you busy with?
I am also doing Breaking News with N Chandra. It's an interesting film where lots of actors are doing small roles. Then there's Kaaran, where I play the madam of a brothel. I've also done a small role in Anurag Kashyap's Shoonya.

What about Sofia?
I was part of the film, but the role explained to me was very different from what finally appeared in the script. I am definitely not doing that film now.

You're also in Deepa Mehta's Exclusion.
(Hesitates) Yes, but I'd rather not talk more about that now. All I can say is that I am very excited to work with Deepa again. 
When are you leaving for the Oscars? 
I think we are leaving on the 20th. 

Any plans on what'll you wear?
I will definitely wear a sari, but I haven't decided on anything else. I am not going to hire a designer or stylist. I don't think too much about what to wear. I never plan; it's always a last-minute decision.
Also read: Tough Oscar rivals for Water