Dressed in a red shirt, a strangely fetching traditional gold necklace, and a tight grin, writer-director Deepa Mehta seems relaxed and happy that her film Water will finally release in India.
Starring John Abraham, Lisa Ray and Seema Biswas, the film has been nominated to the Oscars.
Deepa spoke to Sonia Chopra about the film's turbulent past, peaceful present and hopeful future.
Water is finally releasing in India.
It was important for me that India saw Water. I always felt a sense of sadness that perhaps India would never get to see the film. Thankfully, Ravi Chopra (director of Baghban and Baabul, Chopra will distribute the film in India) had the courage and shall I say, good taste, to take it on (laughs).
Water is like the prodigal son, who is finally being embraced. I believe the journey has been about perseverance. That it's important to follow things through and we will not give up when we believe in something. When you make a film, you hope it will be embraced by the world, but you honestly never know. When Water was made, it took on a life of its own -- it opened the Toronto Film Festival, travelled the world over, and got nominated for the Academy Awards. The film has been seen all over the world, and India will be the last country to see it. I am thrilled.
How do you feel about what happened in Varanasi then?
You can't go through a trial through fire and be okay. What doesn't kill you makes you stronger. But there is no bitterness. The problems were created by a small fraction of people and I don't blame India for that. I am very clear on that.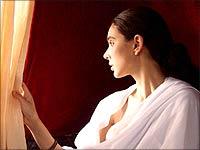 Was Water your most difficult film?
I made Water twice, once in India where the shooting was disrupted and then in Sri Lanka. Strangely, while the first Water was the most difficult, the second Water was the easiest. It was the most peaceful shoot I've ever had in my life. Making it second time around was one of the most powerful experiences of my life. It was like starting on a clean slate.
But if you ask me technically, then 1947 Earth was the most difficult film to make because the epic scale, action and tragedy was difficult to capture.
But you were very cautious the second time you made Water -- you even changed the name of the film to River Moon.
That was to avoid attention and to shoot quietly without the media or anyone getting to know of it. We said to each other -- what is the stupidest name you can think of? Someone suggested River Moon and that's what we called Water till we finished the filming.
Taking you back several years, how did you decide to make Water?
It was the story. It's such a touching love story. The inspiration came when I saw the widow ashrams at Varanasi more than 11 years ago. Water completes my trilogy that is named after the elements -- Fire, Earth and Water. That's because the elements can nurture and destroy you at the same time.
Another thing common to the three films is AR Rahman...
Yes, Rahman has done all the songs for Water as well. He works at night, so it was interesting going to Chennai and working through the nights with him. He loves to go beyond the script and wants to know about the characters, scenes etcetera, before composing.
You've brought back Manorama on screen after 18 years!
(Smiles) I was always a huge fan of Manorama's. I remember seeing her in a film called Dus Lakh when I was very little. I asked Uma DaCunha, Water's casting director, to find Manorama for me. And she found her in a chawl, completely cut off from films. I enjoyed working with Manorama -- I found her to be a very dedicated and sincere woman. And how she made us laugh.
During the shoot, she had to climb up steps, which she couldn't manage due to her weight. So we had built a ramp that took her up there, pulled by pulleys. So we had people pull her up as she sat on a chair, and then she'd wave to all us as if she were a queen. That was one of the funniest moments on the shoot.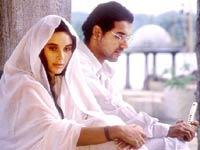 You had originally cast Nandita Das as Kalyani; why the switch to Lisa Ray?
I had cast Nandita when I was shooting in India. When I decided to make Water again years later, a lot of things had changed. I found in Lisa all the qualities I was looking for in Kalyani -- she had the vulnerability and purity that I was looking for. Most people are biased in thinking that models cannot act. But that's wrong. John Abraham has made the transition successfully, so has Cameron Diaz and Al Pacino. I think we need to widen our horizons and realise that the craft of acting is not limited to people who don't walk the ramp.
Even Shabana Azmi was replaced by Seema Biswas.
Yes, I spoke to both Nandita and Shabana about this and I had their full support and encouragement.
How different was the first Water, compared to the second?
The cast and location are different, of course. But it's mainly different, because I am different. I grew in the five-year period, both as a person and as a filmmaker. The script was exactly the same, but how I treated it changed. For example, the earlier film relied on dialogue to take the story forward, and the second time around, I made it less dialogue-heavy and used other details as well to tell a scene.
What is Water about?
Water is about the importance of tolerance. John keeps joking saying that he thought he was the hero of the film but actually, he felt Gandhi was the hero of the film. Which is true. When the film releases on March 9, you'll see for yourself. It's not about being anti-Hindu; it's about being pro-life.
How do you feel about Water being Canada's entry to the Oscars, despite it being a Hindi film, based on an Indian story, and made by an Indian filmmaker?
It feels fine because India did not give it as its entry. If it had, it would be a different story. We have to get realistic about it. How could it have been nominated from India? The film was removed from India. Canada is very aware that it's a Hindi film, based on an Indian story line. So I think all Indians should thank Canada.
Amitabh Bachchan is doing your next film Exclusion.
Yes. He suits the role of Gurdit Singh perfectly, and I am thrilled. I've also signed on John Abraham and Seema Biswas. John plays a revolutionary character in the film, and Seema has one of the strongest roles in the film.
You've described the story of Exclusion, as a part of history that Canada's ashamed of...
That's true. In 1914, Canada turned away 397 Indian dissidents because they were scared of a brown invasion. Those Indians had come by boat and were forced to turn back. When they returned to India, the British opened fire on them, killing 90. It's ultimately the story of about this group of people who want a better life and can't have it. The film explores racism based on the economics.
You've been based in Canada but it's interesting that most of your films are about India.
That's because India is where my roots are! It's like somebody asking Vikram Seth, how come you wrote The Suitable Boy, which is all about growing up in India. I have grown up in India; this is where my dadi's stories are. This is what makes a person. For my daughter, it'll be completely different, but for my generation, we are still very rooted in the India we grew up in.
Your films also seem to want to talk about injustice.
True, but my films are first about stories, because I am a filmmaker first. I don't see myself as a champion or an activist. Even that would compromise me as a filmmaker, as I would have a hidden agenda.
You're also doing The Julia Project and Stella?
Yes, I plan on starting on The Julia Project once I finish filming Exclusion. It's the true story of an American woman, Julia Mullock, who marries Korea's last crown prince in 1959. About Stella, I've written the script, and my brother Dilip Mehta will be directing it.
You had once said, 'It would be very naive to say that films could change the world.' That's interesting coming from a filmmaker who has chosen to make films on issues.
Yes, I still feel very strongly that films cannot change the world. But what they can do, if they are fortunate enough to be seen, is that they can start a dialogue and create an awareness.