After 14 weeks of dance, sweat and toil, the winners of Nach Baliye 3 were declared. Aamir Ali and Sanjeeda Sheikh beat Rakhi Sawant and Abhishek Awasthi in the finals, leaving the losing couple shocked.
Immediately after the winners were announced, Rakhi and Abhishek took cover in the greenroom, and refused to come out even when Salman Khan -- who announced the winners -- requested them.
Rakhi did not even collect her runners up trophy. According to sources, Rakhi could not stop the tears. The next day, she remained in low spirits, and preferred not to talk. But when we spoke to Abhishek on the telephone, it appeared that Rakhi was prompting her boyfriend from afar.
Aamir-Sanjeeda: Rakhi-Abhishek were good dancers
This is what they had to say, in Abhishek's words:
Rakhi and I do not want to work with Star any more. We are emotionally hurt. The result was manipulated.
Initially, Rakhi did not want to do this show but Star pursued her for two months. Finally, they convinced her to do the show. They promised that the show would be fair.
But we had a feeling that they were using Rakhi only to increase TRPs. Finally, they have done what they wanted to do. Everything was decided in advance. They wanted a Star actor to win (referring to Sanjeeda, who stars in Star's Kayamat and earlier, in Kya Hoga Nimmo Ka).
Everything was fixed, rigged and planned. Four days back, everyone from Balaji Telefilms knew who the winners would be.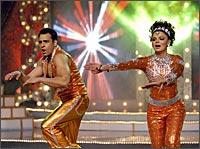 From the last one week, Rakhi was scared and nervous on the show because she heard those guys (Aamir-Sanjeeda) would win. The people at Star kept saying that we were leading and that there was a huge difference in the votes. They started congratulating us.
Rakhi is shocked with the results. Everyone, including family and friends, have learnt that the channel has used us to keep the TRPs high.
Rakhi is a self-made person; she doesn't need a show like Nach Baliye to make her popular. In fact, people started watching the show only because of Rakhi Sawant. They called her 'nautankee'; it is not fair for them to call her a nautankee. They used her to increase their TRPs and now they are calling her nautankee?
We don't have anything against Aamir and Sanjeeda; they are a lovely couple. But even the audience knows who is more popular and who the better dancers were.
If it was the viewers' verdict, we would have accepted it. But we know it is not. We do not want a fake award.
The votemeter at Mahim Causeway (a main artery connecting Mumbai to the suburbs) was fake. I request all viewers not to waste money on SMS voting because it is fixed. It is just a moneymaking business.
On the last day, whenever our friends tried to vote for us, we got a recorded message saying it was temporarily not available. How is that possible? The voting lines were shut much before the deadline. From this, it is clear that it was fixed.
I have got an offer for a serial in another channel. I will definitely take it up. Rakhi has a lot of pending work like stage shows, films and talk shows. She will be busy with that.