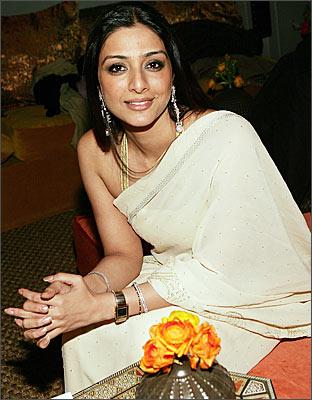 We asked readers to tell us if they had grown up or studied with movie or television celebrities. And we got a great response!
Sharing her memories is Anu Lakkaraju, who studied with Tabu and Farha. 
I studied with Tabu and her sister Farha at St Ann's High School in Hyderabad. Tabu was my senior by two years, while her sister was senior by four years.  
Farha was incredibly beautiful and outgoing. That Farha had aspirations of entering the film industry was no secret. It was sort of a given that she would make it big too -- she was so beautiful.  
Very often, Farha would be compared to the then famous actress Poonam Dhillon because she was light-skinned and had delicate features.  
Tabu, on the other hand, was rather quiet and introverted. Most girls in school knew her as Farha's sister. Unlike Farha, Tabu didn't fit the slot of the 'stereotypical' Indian beauty. Tabu was slightly dark-skinned, too tall, and had a broad frame.  
Farha discontinued school after her 11th grade, and moved to Mumbai with her mother and sister. Tabu dropped out at around the same time.
After Farha made it big in the film industry, she would visit our school every year. Tabu accompanied her once or twice and mingled with all of us. At that point, she was still a gawky teenager. Her fashion sense and style was more like Farha's (bright puffy outfits and big hair that was popular in the 1980s), and didn't really match her personality.  
Then slowly, somewhere in mid-1990s, the tables started turning. Farha disappeared into oblivion after a spate of flops, and Tabu came into her own, especially after Gulzar's Maachis.  
When I think of Tabu, I remember the fairy-tale, The Ugly Duckling, who finally blossoms into a swan.
Grew up with a star in the same neighbourhood? Studied with them in school? Had a star friend in college? Hung out at the canteen together? Bunked classes? Maybe even hit on the same pretty people?
What were they like? What did you think of them then? Did you ever foresee their success?
We look forward to hearing from you.