It's a third-time triumph for Amitabh Bachchan. After having the won the Best Newcomer National Award for his debut film Saat Hindustani and a Best Actor trophy for Agneepath, he has nabbed yet another Best Actor win for Black.
After a marathon shooting spell in Hyderabad for RGV's sequel to Sarkar, the Shehenshah is back in Mumbai. In his vanity van he spoke to Girish Rao about the awards, Aishwarya Rai and his forthcoming films.
Congratulations. You have won the National Award twice; were you expecting it this time?
Well, people were discussing it for the past year. I really felt happy working for Black. It was an amazing film and the people with whom I worked with for this film were themselves amazing and talented people. They all were talented people, coupled with a full knowledge of the art of cinema. Discussions started about this film and the buzz happened, then it got delayed, but now when it has finally been announced, it goes without saying that I am very happy.
Your role of Mr Sahay is pretty close to your heart. At this news, surely old memories must have come rushing back?
Yes, whenever people start talking about a film again, memories do come back. Just a while back I was talking to Rani Mukherji on the phone and we were talking about the way we made this film and the whole rigmarole we went through. It really feels good. Anything and everything which relates to our film is always there in my mind, but the fact is that everyone is so busy in their day to day life that we all tend to forget those lovely moments. Whenever such a thing happens, I do remember the past. It feels good.
Amitji, you have won so many awards in your illustrious career. How is this award different from the rest?
Whenever the government bestows you any award, it carries lots of importance. It's got an element of dignity and prestige attached to it. I am really lucky that the government chose me and felt that I should get the award. Of course there are lots of awards, but I don't say this that they carry lesser importance. They are diverse in nature -- some are popular awards, taking into consideration the choice of the masses, while some, for example the IIFA awards, are voted for by the industry people. They all are good. It wont be good if we were to compare awards with each other. They all have their own importance. I am happy that the government chose me for this award.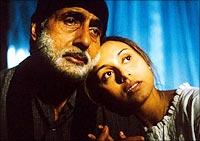 You have won so many awards, how is the excitement level when you compare this award with your first award?
It would be wrong to assume that since I have won many awards, the happiness quotient lessens. I personally think that whenever an artist wins an award, he or she definitely feels happy within, and I am no exception. I think that awards reflect the mindset of few people who feel that you have done a god job. I have this conviction that we should have enough strength to know the level of work we do.
If we get an award for it, it's most welcome but at the same time, every artist at some point or the other feels that he or she has done the job well, while on some occasion they feel that its not up to the level.
Black happens to be one of those films for me where I felt that I did a good job.
Do you remember the day when you won your first National Award?
I received my first National Award for
Saat Hindustani
for being the most promising newcomer. The function took place in Chennai. At that time Karunanidhi
ji
-- now the Chief MInister of Tamil Nadu, was also the CM back then -- handed me the award. That's all I remember.
And how did you celebrate, back then?
At the time I was shooting in Madras, only for a South-based production house. After the shooting got over, I went for the function, took my award and returned back to the hotel. At that time my younger brother too was working in Madras. We had a small gathering of people at the hotel and that was it.
Ok, how do you plan to celebrate this time?
I have left it on my family to decide, in whatever manner they feel like. The formal announcement for the award is yet to be made but the day it's made I will leave it on Jaya, Abhishek and Aishwarya to decide.  
You have been a part of the film industry for so many years where the fate of a star changes every Friday. When you take a panoramic view of your career how much of it has been hard work and how much luck?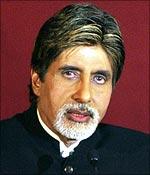 It's an everyday struggle. Every day, we wake up and accept the challenges that lie ahead and then we fight to overcome them. From an actor's perspective, I would like to believe that everyday we should get some challenge or the other, we should posses as much strength to accept those challenges with all humility and fight them back, else we should not be called actors. If we get satisfied after a point of time, that would spell bad luck for an actor; we just can't move ahead after that.
Do these celebratory moments make you recall your bad days?
Well, I have never believed that I am a privileged one. An individual encounters difficulties throughout his life, and one should learn from the mistakes he or she commits and ponder over the fact of why one is in such a phase. Then we should try to rectify those errors and mistakes. I think in a similar fashion and every day I make an effort not to commit any error. But being human, we are prone to commit mistakes. I think that the ups and downs in one's life is good for a person; they teach us so many things and give us inspiration to move ahead in life.
Now about your next release: are you scared of the comparison Ramgopal Varma Ki Aag will offer with the original Sholay?
Whenever I act in a film, I feel scared. Whenever a film gets released and is thrown open for the masses, then I feel scared. It makes us jittery how they will take to our product, and the same applies to Ramgopal Varma Ki Aag also. We'll get to know the fate of the film only after it's released.
But what does your inner voice say? You mentioned some time back, with reference to Black, that one gets to know the quality of work one is doing while acting in a film.
When a film is being made, no one knows the fate of that film but we do carry our hope. We often think that what we have made will surely appeal to the masses.
Finally, what's the status of the sequel of Sarkar?
We all were busy shooting in Hyderabad till few days back. The name of the film is Sarkar Raaj and this film begins where Sarkar ended. In this film, three members of my family are there, me, Abhishek and Aishwarya. I really felt happy that the whole family was there on the sets, and we did everything together.
It really struck me at times that till a few months back, Aishwarya was an actress and now she has become a part of the family. But again at the end of the day, we all are professional actors and have to forget familial ties for a few moments on the sets. I am happy with the way the film is shaping up. Hopefully, the film will get over by the end of this month and will see its release by the end of this year.
Don't Miss: Exclusive: On the sets of Sarkar 2