Ali Haji and Angelina Idnani are just like any other kids on the block. Yet, they have something that sets them apart from others -- a role in a Yash Chopra production.
Ali, 7, and Angelina, 9, have tasted success early in their lives. They sound more confident than other children their age. But that would only be natural. In a country where Bollywood stars are almost worshipped, acting with Saif Ali Khan and Rani Mukerji would make any child the star in his circle of friends.
And they would have lots of anecdotes to take home with them, after starring in Siddharth Anand's Ta Ra Rum Pum.
A Class 3 student in Mumbai's Ashburn International Heights School, Ali seems the intelligent sort. A busy shooting schedule and much globe-trotting does not seem to hamper his studies.
Angelina, a Class 5 student in Mumbai's City International School, was, in fact, granted a three month leave by her principal to go for the film shoots.
Both the children still remember the day they were called for auditions for Ta Ra Rum Pum. They were quite nervous, even though this was not their first film.
Ali was called for three auditions while Angelina had to go through four. During his audition, Ali was asked to act like he was driving a remote control car. Angelina was asked to act as though she was reluctant to leave her school and teacher. She was selected out of 500 girls.
But Ali is not new to the world of showbiz. He was only six-months-old when he did his first advertisement for Johnson and Johnson. Since then, he has been a part of quite a few ad campaigns like Dabur Chyawanprash, Lifebouy and Tata Tea.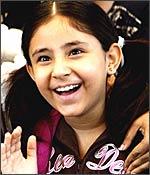 His first movie was the Amitabh Bachchan-starrer Family, when Ali was five years old. Ali is all praise for Bachchan. And no, he insists it is not because the Big B bought him two remote control cars, a robot and a gun. He followed up Family with the Aamir Khan-Kajol starrer Fanaa.
Angelina too has appeared in two films before, Phir Hera Pheri and Benares, and quite a few ads like Neutrela, Everest Masala, Haldiram, Montex pens and Mahindra Club Holidays.
Ta Ra Rum Pum has been shot in the US, and Ali -- along with his parents and sister -- stayed there for the entire shooting duration of two months. Besides visiting the Statue of Liberty, Battery Park, Bronx Zoo and Times Square, he would treat himself to a new toy everyday.

Ali recalls that the entire film unit, including the stars and the director, were affectionate to Angelina and him. He and Saif (uncle) would go for fishing while Rani (aunty) would take great care of him.
Angelina, meanwhile, wants to work with Rani (didi) again and again. "Saif uncle and Rani didi encouraged us. Rani didi told me that I have done very well in the film," says Angelina. No prizes for guessing who her favourite actor is. Saif's down-to-earth personality simply floored the nine-year-old.

The two child actors also loved director Siddharth Anand.

"Sid uncle was very nice," Ali says. "He would tell us our lines and what to do and where to stand. He would never get angry with me. There was a scene where we become poor and Rani aunty and Saif uncle are on a reality show, where we have to have the attitude of 'don't worry be happy.' I forgot many dialogues and was making mistakes. But Sid uncle did not scold me. He would say it's okay."

Angelina has her own experiences with Sid uncle. "He explained every scene well. We were usually prepared for the scenes, as we got the script in advance. So we would revise and reach the location. But there was a school scene where I kept forgetting my dialogues. That was the toughest scene. But Sid uncle did not get angry."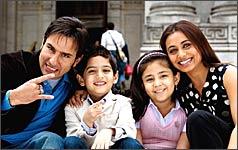 Ali giggles as he describes the series of unfortunate events that occurred to him during the shoot. He injured his knees on his first day in New York. The next day he was diagnosed with viral fever. But there was a silver lining to his bad days. He was given a Limousine ride back to the hotel in Carolina on his birthday. Of course, it is a different story that the limousine was hired for a scene!
A scene in the movie, which was filmed over Brooklyn Bridge, seems to have mesmerised the kids. "The weather was very bad in New York, and we were about to be blown away. There was a cyclone warning but still we shot that day," says Angelina.
Ali remembers it for a slightly different reason. "It was freezing cold on Brooklyn Bridge. The wind was too strong, and we were all chattering. But there was a very hot pizza for Angelina and me!" he exclaims.
Ali is ecstatic talking about his animated birthday song, which was shot in Mumbai. He and Angelina were asked pretend as though there were chocolate and mashmellow trees all round them. In reality, there was nothing. When they saw the song onscreen, they were amazed to see how beautiful it looked. And the bears made it better!
Ali even joined Saif and Rani to shake a leg at the wrap-up party at their hotel.

But Ta Ra Rum Pum is not the last you'll see of Ali. The young actor has a busy career ahead of him, which includes Drona (Abhishek Bachchan, Priyanka Chopra) and Partner (Salman Khan, Govinda, Lara Dutta and Katrina Kaif).
And he's already the darling of the stars. Salman bought him a toy bike, and even invites him to his farmhouse in Panvel, on the outskirts of Mumbai.