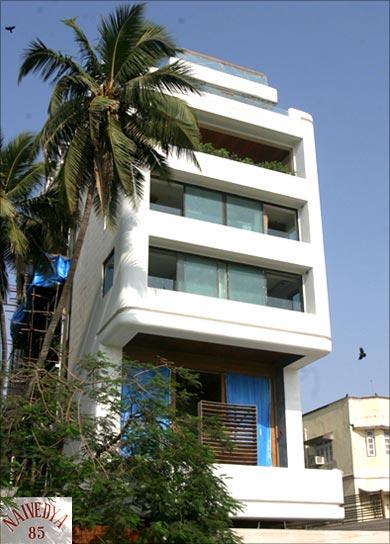 It is not known if this building on the left, NaiVedya, will be the home of the soon-to-be-wed Aishwarya Rai and Abhishek Bachchan, but there may be reason to believe it is.
NaiVedya, a rather old structure until three years ago, is undergoing brisk renovation.
Located at Carter Road in the suburban area of Bandra, Mumbai, the building is a 10-minute drive from Ash's current home on the 12th floor of the La Mer building, where Sachin Tendulkar also lives.
When photographer Rajesh Karkera was about to shoot a picture of the building, the watchman said, "Please don't shoot a photograph; it does not belong to Abhishek Bachchan."
A strange comment considering we had not even asked who the building belonged to.
Further enquiries revealed the watchman was tired of answering questions if the building belonged to the Guru star. He indicated it was owned by someone settled abroad.
"I don't know who the owner is except that it is not Abhishek Bachchan," the watchman said.
Abhishek's parents Amitabh and Jaya Bachchan own two bungalows in Mumbai -- Prateeksha and Jalsa in the city's suburban Juhu area.
Text: Syed Firdaus Ashraf