T
a Ra Rum Pum
is a modern-day fairy tale.
When a race car driver's booming career abruptly comes to a stop, his supportive wife takes charge. How they get their life back together as a family is the crux of the story. And no, this isn't a remake of Disney's
Cars
. Though don't be alarmed if you spot the movie's leads Saif Ali Khan and Rani Mukerji frolic in Jack Sparrow (of
Pirates Of The Caribbean
) and Mickey Mouse head gear.
After exploring 'live-in' relationships in his debut
Salaam Namaste
, director Siddharth Anand opts to make a family entertainer with the
Hum Tum
pair playing Ma and Pa.
Again a Yash Raj production,
Ta Ra Rum Pum
boasts of bouncy music by Vishal-Shekhar.
The album kick starts with the mandatory title song.
Ta ra rum pum
features Shaan and Mahalaxmi Iyer animatedly celebrating the joy of family and togetherness against Javed Akhtar's playful yet meaningful lyrics. The result is both endearing and entertaining. What makes this one special is its cheerful and upbeat disposition. It's a feel-good potential chartbuster, we predict!
The gentle paced romantic rhapsody,
Hey Shona
brings back Saif Ali Khan's best singing voice in picture. Joined by Sunidhi Chauhan, Shaan smoothly conveys the feeling of tender affection and mush. Even so, the '
shona'
bit tends to start grating on the nerves after a short while.
Sonu Nigam and Somya Raoh pack in a peppy bhangra with
Nachle ve
. Though Akhtar disappoints with a dose of redundant poetry of the
'tu chahe toh sitare tere raaste sajaye, aasman sar jhukaye'
brand. Quite a zippy track, if you want to hit the dance floor.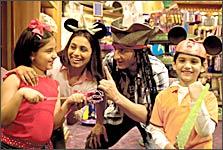 Move over Will Smith, this is
Pursuit of happyness
, Bollywood style. The oft-used phrase 'this too shall pass' echoes in the mood and melody of
Ta ra ra ra rum tararumpum
. Shreya Ghosal's sweet vocals blend effortlessly against a mellifluous combination of piano and accordion. Soothing, uplifting and inspiring, this creation is a job well done.
Ab to forever
, with its techno overtones and hip hop elements is likely to go down well with the clubbing crowd. Though nowhere close to the hip and fancy
Dus bahane
(
Dus
) and
Right here right now
(
Bluffmaster
), also by Vishal-Shekhar, this jazzy and foot-tapping number has its moments.
Vishal Dadlani wields the microphone to wax eloquent on life and its philosophy in the charged
Saaiyaan
. A lot of electronic guitar and a hint of Sufi music, vaguely reminiscent of Junoon's
Sayonee, Saaiyaan
tries too hard to sound euphoric and doesn't.  
Ta Ra Rum Pum
is a neat soundtrack. The songs are fun and likeable. Don't expect another
Salaam Namaste
though and you'll do just fine.
Rediff Rating: