In the first part of our conversation with Nagesh Kukunoor, he discussed why he picked actresses Ayesha Takia and Gul Panag in his new film, Dor.
As the conversation continued and the cappuccino cooled, Nagesh told Raja Sen about his reasons for setting up the film's climax, and why box office success scares him. Read on for excerpts, but be warned -- spoilers likely:
Coming to Shreyas Talpade, the actor is an absolute find. His grin is as integral to your narrative as the story itself.
Oh, so true. He's brilliant. I had always conceptualised the film in thirds, the first one-third for Gul, the second for Shreyas and the third for Ayesha. But the first one-third had enough of a balance between Ayesha and Gul, and Shreyas just spilled all over the script. He's a riot and, in my opinion, one of the best characters I've ever written.
Growing up watching action films and journey films, I remember there would always be a character who would save the day. Once he was onscreen you, the viewer, would just be able to sit back and relax because you know now there has to be a happy ending. And you just let go and enjoy his antics.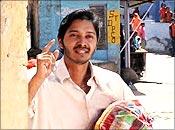 So when the bahuroopiya was written, did mimicry feature strongly in his character because of Shreyas' abilities, or did Shreyas have to try and learn how to mimic?
Honestly, I knew Shreyas was a great mimic, and we factored that in later. All I knew when I was first thinking of the character was a man of many disguises. Actually, initially I was convinced it should be an older man. And then came this epiphanic moment on a flight, where I somehow saw the three characters dancing on the dunes -- I have no idea why Kajra Re popped into my head -- and I loved that moment. So I started thinking that an old man couldn't dance. Have you ever danced on sand? It's impossibly hard. So I thought maybe we should make him younger. And then it came, the 'maybe we should make him Shreyas' moment that changed it all.
What about his lines? His dialogues, even when he's not imitating Bollywood's biggest, are standouts.
Thanks. I write in English, and Meer Ali Hussain, a longtime collaborator translates it into Hindi. I can manage some spoken Hindi but not enough to really write the nuances of a film. He's a Professor of Business Management in the US, and he words them beautifully. About Shreyas, there's a point (he introduces himself with a complete Bollywood spiel) where the bahuroopiya starts off with lines from Chalti Ka Naam Gaadi, Sholay and Munnabhai but then we see that there are times he mimics almost subconsciously.
And then there's that scene where he gets drunk and confesses his love for Gul. The classic tool of letting his mask slip.
Exactly, letting his mask slip. And it's important because audiences are curious. 'He's hanging around her, helping constantly, does he/doesn't he?' And I wanted to play with the traditional Hindi film setup by creating a character in love with a married woman with no hope of getting anything in return. He knows she loves her husband, but he's in love with her and he tells her. What's wrong with that? They can still be friends.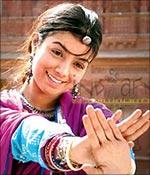 All due respect, Nagesh, your cameos are always fun but even you can't quite pull off being called Mr Chopra.
Ah, but Mr Chopra's very interesting. He's a bit of a caricature, in that he wears a spotless white kurta-pyjama at night, etc. And I'm very clear that he's not a sleazebag. I mean, in the real world sleazy folks aren't like we see in films, are they? They won't proposition a woman or ask for a bribe while (making faces) twirling their moustache and leering at a girl while scratching their jaw. They'll probably be very cold and casual about it. Very everyday. So I wanted the proposition to come from a seemingly normal guy. As normal as Nagesh Kukunoor.
Okay, now it's as cliched as questions get, but I'm curious. What's your favourite part of the film?
Hmm. There are two actually. First of all, there has to be the Kajra Re scene. It's such a great moment in this tense, emotionally tight film where the audience gets to see these three characters actually being happy. It's a great release. And Shreyas' face is magical. I remember I was in the editing room and I would have a stupid grin plastered on my face just because his joy was so contagious.
Secondly, the part where Meera finally breaks free and runs. The shot from the back as she suddenly lets go and decides to go for it. And Salim-Suleiman had a great piece of music for that, and so Ayesha starts running, the sarangi kicks in, and it's a spectacular moment as Meera is finally going for it. When I put the piece of music onto the shot in the edit room for the very first time, I began to think I must be getting older: my eyes watered.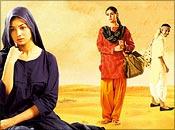 It's quite a climax, admittedly. The train sequence is Bollywood's most overused climactic scene; how did you think of using it here?
Again, it's a fine line to tread. I'm sorry, I grew up on Bollywood cinema and I feel films should end on an emotional high. This is something that can be done well or not, and this script makes this end, keeping these characters in mind, anything but predictable. The audience is meant to feel the characters' great fear and elation and that creates the moment. Also, I don't think there is any other Indian film where two female protagonists resolve their crisis without a man's intervention. I can't think of another climax like that.
And then there's that passing shot of Shreyas in the conductor's jacket, waving a green flag. Was that an afterthought just to keep the magic alive?
Yes, it was to keep the magic alive but definitely not an afterthought. Also, it was for that one person in the entire auditorium who might ask why the train was on the station for so long.
The film is doing well – colleagues couldn't get tickets at multiplexes on Sunday. And the reviews have been almost unanimously positive.
I'm so glad. Yeah, I've heard the film is picking up. You always set out trying to make a well-received film, but you don't know how. It's bloody scary. How to make it work?
I never used to think about the impact of cinema, because for me filmmaking was a purely selfish medium of self-expression. Thinking about how people would perceive a film is likely to hinder one's creativity. But after Iqbal I've seen how people react to cinema, and it's very scary – the impact is more widespread than I could imagine.
The other day I was sitting at a hotel with Shreyas when a father and son came up to us, after hesitating for quite some time. The man apologised for interrupting us but said all he wanted was for Shreyas to tell his son he was Iqbal. Shreyas grinned and said, 'Yes, I'm Iqbal,' the kid smiled and left happily. The level this medium reaches is tremendous -- and, I repeat, scary.
Don't miss Part I of the interview: Why I picked Ayesha and Gul