Let's just say that Rocky tries to be a typical Bollywood action film -- its hero trying to do everything. From wooing a belle whie running around trees, to beating up goons and being a dutiful son, it's all in a day's work for Rocky. Many films try it, of course, and this one doesn't quite pull it off. Now, before getting into an overall analysis of the film, let me concede that it also does a good job on some fronts. Let's start with the positive aspects.
The cinematography is good. Locales have been chosen well and blend with the storyline. The stunt-master has also done a good job with Zayed Khan's action scenes often reflecting scenes from a typical Jackie Chan movie.
Now, the interesting part -- plot. Although the movie has enough masala, coupled with some high pitched songs from Himesh Reshammiya, the execution is faulty. It moves too abruptly. Also, apart from Zayed's performance, the others fail to impress, with Isha Sharvani and Minissha Lamba coming across as very ordinary.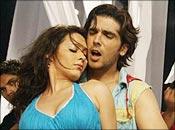 Most of the characters display extreme emotions. The display should be moderated, but isn't. Instead of the emotional content coming through, all you get is rising decibel levels and a whole lot of gesturing. It doesn't help that much of the cast is unknown, making it more difficult for audiences to identify with the actors, especially given their boring performances.
In terms of audience reception, the movie hall I went to was almost empty. The stalls were somewhat occupied, yielding a few whistles and catcalls whenever Reshammiya launched into another shrill track. So, the film may just work with the lower stalls.
Overall, this is strictly for those who have some time to kill. And, if you go, avoid the balcony; a lower stall ticket will do.
Rediff Rating: