Nagesh Kukunoor's Dor is a complex tale of how two very diverse worlds collide.
Yet it is told in an uncomplicated, sensible manner, minus melodrama, cliches and a glamour overkill. It's also amusing enough to keep you in splits throughout. The storyline is inspired by Malayalam film Perumazhakkalam directed by Kamal,  starring actresses Meera Jasmine and Kavya Madhavan.   
Ayesha Takia plays Meera -- an innocent, affectionate, spirited but abiding young woman who lives with her husband in a traditional joint family set-up in Jodhpur. She and her husband are very much in love and share an intimacy demonstrated very endearingly in the film. In one of the opening scenes, Meera dances with gay abandon to the song You are my soniya, trying to ape the moves of Bollywood heroines, while hubby Shankar looks on, blissfully entertained. Shankar lands a job in Saudi Arabia, and the lovers part amidst a restrained show of sadness. He sends home money for the family and Meera rents a cell phone for a pretty packet once a month, so she can indulge in a few snatches of conversation with Shankar.
Takia's character is the antithesis of Zeenat (Gul Panag), an independent, self-assured, practical but slightly cold woman from Himachal Pradesh. The story doesn't reveal much about her background or her family. It's most likely that she's an orphan who has seen hard times, and emerges stronger from the experience.
She is in love with Amir, who marries her despite opposition from his parents. The two tie the knot in a simple ceremony without any invitees. The next day Amir must leave for Saudi Arabia as he gets a job there. His parents come to bid him farewell. He tries to win their approval for his new bride. However, it is only after he departs that they finally embrace Zeenat. In turn, she cultivates an intimate bond with her in-laws giving them all the money Amir sends home every month; she has enough to sustain herself from her job as a teacher.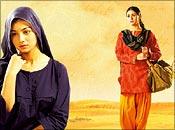 Shankar and Amir cross paths in Saudi Arabia, where they live as roommates. Then tragedy strikes. Shankar falls off the balcony and dies. Amir is convicted for murder and thrown into a Saudi prison. But that won't be for long. Soon he will be tried in court and if found guilty, he will get the death sentence. The ministry of external affairs intervenes and explains to Zeenat that the only way Amir might be set free is if Shankar's widow condones Amir. So, Zeenat sets off on a quest to find Meera, treasuring a single document that could set her husband free.
Many miles away in Jodhpur, Meera is now condemned to a peripheral existence. Her bangles are shattered and the kumkum is whisked off. She is disrobed off her vibrant ghoonghat and made to wear deep blue widow's garb. She is banished into a cold, dark room with a lone beam of light, where she silently moans the death of her husband and suffers the loss of freedom, alone.
When Zeenat reaches Rajasthan she encounters Behroopia (Shreyas Talpade), a jester-like conman who first entertains people and then steals their belongings. His brand of entertainment involves impersonating a variety of iconic Bollywood characters. He also has the talent for slipping effortlessly into the guise of real-life characters like your local taxman or police inspector. Zeenat encounters Behroopiya at a local dhabha in Rajasthan, whilst she is pondering her plan of action. He forecasts her future and delivers a rendition of Sholay's Veeru in exchange for a plate of food. Though she does not buy his shenanigans, she shares her food with him. In return he flees with her money and belongings.
However their paths cross again and he helps her track down Meera. This twist of fate spices up the journey.
Will Zeenat find Meera? And will Meera find it in her heart to forgive Zeenat's husband?
Dor is a must-watch for all Indians; the core message transcends religion, community, strata and gender and it has a superb anti-climax. The film is entertaining and also has multiple messages that are delivered in the subtlest manner.
And there are many highlights. The film is aesthetically shot against picturesque locations in Himachal and Rajasthan and some of the scenes shot in Jodhpur simply take your breath away. The script is engaging; the dialogues entertaining, witty and yet quite profound. You also have several sub-plots that surround the main story. And every scene seems to have been well etched out.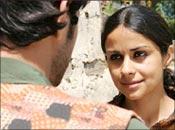 Stripped of all the makeup and stylish get-ups, all Ayesha Takia is left with is a sweet doll-like countenance, bushy eyebrows and the ability to strut her acting prowess. And she goes for the kill with an award-winning performance. Happy and content one minute, depressed, vengeful or naive the next, she does justice to all the various shades of Meera's spirited yet repressed character.
Shreyas Talpade is a natural at comedy and his impersonations have the audience rolling off their chairs. However, his character commands more than just lots of laughs. In a drunken stupor he sheds his jester-like exterior to reveal his true feelings and this transition seems so natural.
Gul Panag looks lovely without makeup, her dimples lighting up the screen every now and then. Her portrayal of Zeenat is pretty decent, her character coming across as strong yet restrained. The supporting cast, despite having short roles, manage to hold their own.
After skipping his obligatory cameo in Iqbal, director Nagesh Kukunoor here appears as a rich factory-owner setting up shop in Jodhpur. Off-screen he has done a fantastic service by creating meaty roles that give the actors an opportunity to really perform. The character sketches are strong and the characters are inspiring but not patronising. The script, the story and the characters take the spotlight and the sets, though picturesque add to the plot instead of overshadowing it. 
Another wonderful aspect is the rural setting of the story as opposed to an urbane or yuppie backdrop. There are so many stories across the length and breath of India that need to be noticed, shared and told. According to Kukunoor, he almost didn't make the film. Well, we are glad he did and look forward to many more engaging films from the Kukunoor stable.
Rediff Rating: