L
eonardo DiCaprio
told the British daily
The Independent
in an article published on Thursday about his favourite films.
It's a top ten list largely comprising of classics, and fans of the young star will be surprised to see his decidedly old-school taste in cinema.
He starts off completely textbook, rating Vittorio De Sica's 1948 classic Bicycle Thieves at the very top, calling it 'the prototypical movie of Italian neo-realism.'
Then comes 'dear friend' Martin Scorsese -- who directed him in Gangs Of New York, The Aviator, and the upcoming The Departed -- getting the runner-up spot with his 'masterpiece,' Taxi Driver.
Lawrence Of Arabia enters at number 3, Leo transfixed by the 'famous long shot of a heat-blurred desert resolving itself into the image of Omar Sharif riding towards the camera.'
At number 4 is Federico Fellini's autobiographical 8 1/2, about a director suffering creative block. Orson Welles is DiCaprio's next pick, starring in Carol Reed's 1949 film, The Third Man.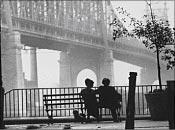 At 6 comes Akira Kurosawa, with his 1961 Yojimbo, the film Sergio Leone remade as the spaghetti Western A Fistful Of Dollars.
At 7 is Woody Allen -- who directed Leo in the unfavourably received 1998 Celebrity -- with his Manhattan, (right) Leo picking it over Annie Hall as he thinks this 'black-and-white hymn to New York shows Woody Allen at the top of his game.'
Sunset Boulevard is at No 8, the 1950 film ever-compelling to industry folk as a vital 'comment on the way Hollywood can destroy people.'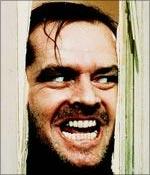 At 9 comes Stanley Kubrick's The Shining, (left) and while Leo acknowledges Jack Nicholson's demented portrayal as 'miles over the top, but this is horror at its finest.'
East Of Eden, Elia Kazan's 1955 film that happens to be James Dean's last, left a lasting impression on young Leo, as it 'is packed with Biblical imagery and has wonderfully evocative theatrical moments.'
All in all, a very interesting list of 10 fine films. Also, it's intriguing to see the intense Aviator star gravitating constantly towards films driven by intense single-star performances.