What are the ingredients that go into making a film based on myth?
A script, for a start, then a jungle, some tribals, dance sequences, an eerie background score, a waterfall, wild animals, unusual terrain, a bit of suspense, tonnes of special effects and, not to forget, a suitable starcast. Miss any one of these and a mythological film goes for a toss.
Director Sachin Bajaj has just offered us proof.
With an average starcast, average script and below-average score, Bajaj has dished out a so-called adventure flick titled Naksha. Starring Vivek Oberoi, Sameera Reddy (why was she in the movie?), Sunny Deol and Jackie Shroff, it revolves around the same old Bollywood fundas: the victory of good over evil, coupled with the belief that some secrets are better left hidden for the good of the world.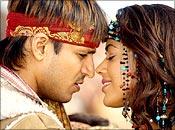 The movie starts off with an archaeologist being chased around a jungle (there's one of our ingredients) by some goons, headed by yet another so-called archaeologist (Jackie Shroff). What they are after is a map that leads to something that could make a person immortal (yawwwn!) The legend behind the treasure goes back all the way to the Mahabharata. Start thinking! Even if you can't figure out what they're after, don't worry. It's not worth it.
Faced with certain death, the professor decides not to let the map fall into the wrong hands and jumps into the sea with it. When the news gets back home, the world crashes around the professor's wife and (hold your breath) his ex-wife. Both mourn their loss together with a television report in the background saying the professor met with an accident in the jungles of Uttaranchal. Wait a second, didn't he jump to death in the sea?? So much for breaking news!
A painful past heralds a more painful present, with indications of an even more painful future. The professor's son grows up to become a prankster (Vivek Oberoi), who needs his mother's help to find a shirt lying right in front of him, a jacket kept to his left, and trousers he is already wearing (more yawns).
When the family lawyer (also the real estate guy, I suppose) informs our hero that someone wants to buy the house where they lived before his father died, he decides to explore the place. And, he finds the first link to the mystery his father never mentioned even to his mother (incidentally a mother who shows no signs of ageing even a decade after her husband's death).

So, dumb guy conveniently transforms into ideal son, determined to realize his father's dream. He sets out (again in typical Bollywood style, complete with a farewell letter by his mother's feet), only to further prove his incompetence as he lands up in the custody of the same goons who chased his father.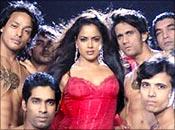 Meanwhile, the concerned mom approaches the professor's former wife for help. The stepbrother makes an entry just as one of the goons fires a bullet to blow our hero's brains out (Vivek is irritating enough for this action to seem quite justified). Sunny paaji goes about swiftly doing what he has been doing in most of his films -- bam, bam, bam…
Wait! Did I miss our heroine? Maybe I did. The way she has been wasted in the movie didn't make me feel like wasting words to describe her. A lead heroine, Sameera was probably roped in just to shake her booty.
Fate lands her in the company of the brothers on their mission. Why she tags along with them still puzzles me. Anyway, as the story progresses, it becomes clear to all what everyone is after. Then, it's all about who gets there first.
The camerawork leaves a lot to be desired, the action sequences are over-done and, to top it all, the music is senseless. Imagine listening to songs with words like Shake what your momma gave you…(groan!) Overall, there is nothing that can draw audiences to theatres playing this. And, going by the way it was received on its opening day, Naksha can rest in peace by Sunday. (ZZZZZZzzzzz)
Rediff Rating: